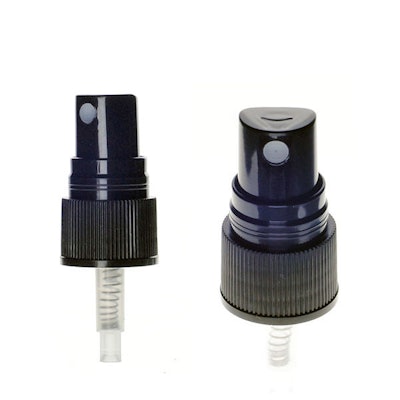 Fine mist sprayers have long been a reliable choice for liquid form cosmetic and personal care products, and now O.Berk offers new stock options in 0.15-cc sprayers. O.Berk's stock inventory has these fine mist sprayers available in black or white on the fly at carton quantities and custom dip tube lengths so they arrive ready to complete your package.
With an output of 0.15 cc, these fine mist sprayers are designed to deliver just the right amount of product to the intended area of application. Ideal for low-viscosity liquids and less dense oils capable of being atomized, these sprayers are available for 20-410 and 24-410 neck applications.
A clear, sturdy hood is included to protect the actuator from damage during product transit and from the accumulation of dust. A standard 10-inch dip tube is included with the sprayer and can be trimmed to a specific length to fit any package.
Most important is the quality assurance with this form of closure, which is composed of durable polypropylene (PP) plastic. The protective dust cover also helps to deliver consistent performance with every spray. The black and white fine mist sprayers are now in stock, available and ready to ship at low, competitive pricing.
Companies in this article