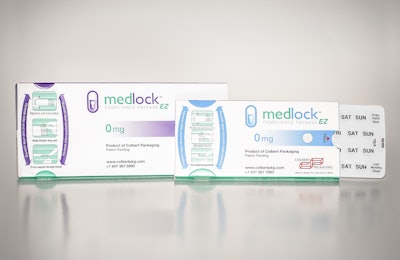 Colbert Packaging Corporation, a leading manufacturer of folding cartons, rigid setup boxes, and paperboard specialty products, is expanding its MedLock EZ family of patient compliance packages to accommodate a wider range of medications. The newest addition to the MedLock EZ family features a larger footprint than the MedLock EZ design introduced last year. Both packages have tested to F=1 for child-resistant, senior-friendly (CRSF) effectiveness, high safety marks by the Consumer Product Safety Commission.
"When subjected to CPSC testing protocols, all of the seniors were able to open the MedLock EZ package, but none of the kids were able to scratch, tear, or bite their way in," says Glenn Grosskopf, Vice President of Product Development for Colbert Packaging. "There really is no other acceptable outcome to the CPSC tests. MedLock EZ is a child-resistant, senior-friendly and sustainable unit dose alternative to amber prescription vials, and now it's available in two varieties."
The new version of MedLock EZ has a larger footprint because it was designed to accommodate larger pills and blister cards, but it functions just like its smaller predecessor. MedLock EZ consists of a fully brandable outer paperboard shell housing a pill blister card that is locked into place with an integrated, patent-pending locking mechanism. The lock disengages by squeezing and holding touch points at one end of the paperboard shell while sliding the blister card out through the other end. Once the blister card is exposed, medication can be pressed through one of the individual blisters. Sliding the blister card back into the outer shell reengages the lock.
In addition to the branding and sustainability advantages of a paperboard-based design, MedLock EZ's large printable area also offers ample opportunity to engage patients in their drug treatment regimen. With MedLock EZ, pharmaceutical companies can promote adherence by communicating clear and consistent dosing instructions, and by making dosages easy to dispense and track.
Companies in this article