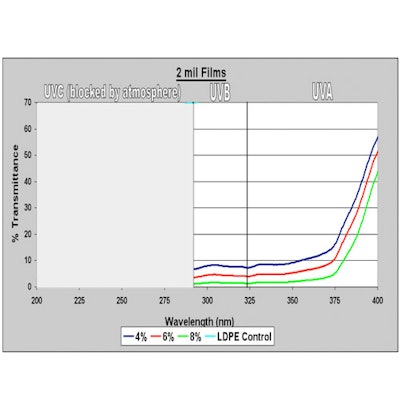 Amid the vast array of machinery found on the PACK EXPO floor that can help get their products more speedily and cost-effectively to market, brand owners are finding new-product introductions that can boost product shelf presence as well.

Among factors that can deteriorate package appearance and product quality over time is light damage, and Ampacet is staging an answer to this challenge on the show floor with the introduction of an ultraviolet-light absorber (UVA) masterbatch for thin-gauge polyolefin films. Company representatives were telling brand owners who visited Ampacet's booth that compared to conventional UVAs, the new masterbatch offers improved content protection for thin-gauge film applications with fewer problems because of additive migration.

Ultraviolet light affects packaged food and other light-sensitive products, potentially causing discoloration, off-taste, odor, diminished nutritional value, or decreased product performance. Though the traditional use of rigid, corrugated, and pigmented packages shielded products from UV light, the growing use of clear, flexible packaging exposes products to UV light. UV absorbers are needed to protect the contents of clear packaging from UV damage, preserving brand image and improving sustainability by increasing product shelf life.

Ampacet's new UVA masterbatch contains a special UV absorber system that screens a broad range of UV light wavelengths from 280 to 380 nanometers. The new UVA is more efficient than conventional UVAs, Ampacet says, so it can be used at lower loadings and in thinner film gauges. The new masterbatch also creates stronger seals and provides better lamination adhesion.

The new masterbatch mitigates plate-out on processing equipment and reduces the occurrence of white residue on packages. Its reduced migration results in longer-lasting UV protection, according to Ampacet.

Companies in this article