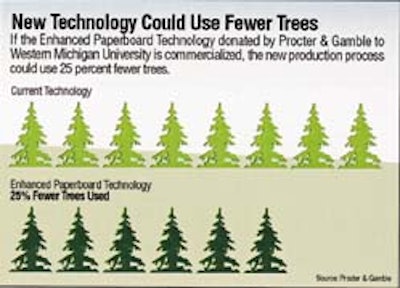 In late March, the Cincinnati, OH-based company announced that it was donating to the Paper Technology Foundation the rights to more than 100 pending worldwide patents for what P&G calls Enhanced Paperboard Technology (EPT). Although born out of chemical research, EPT has a strong packaging focus: reducing the amount of wood pulp needed to make corrugated shipping containers. In essence, P&G researchers learned that by using lignin, a byproduct from pulping, together with certain resins to treat linerboard for corrugated, the humidity resistance and overall performance of the finished corrugated can be dramatically improved while weight and overall ingredient costs are reduced.
In short, the goal is to use 35# EPT-treated liner to achieve the same strength as a box made of 55# liner, says Chris Peterson, associate director of global licensing for P&G. When developed and proven, the technology has the potential to affect even nonpackaging applications.
The Paper Technology Foundation is a private foundation that operates at Western Michigan University, Kalamazoo. WMU itself operates one of the leading paper technology programs in the U.S. and will realize all future financial benefits from commercializing the EPT technology. For its part, P&G hopes to pioneer the use of the resulting containers, along with the immediate tax benefits of the donation. Plus, says Terri Carrack, P&G spokeswoman, the company will also save the costs of maintaining the patents.
"WMU's program is uniquely qualified to bring this packaging technology to market quickly," says Gordon Brunner, P&G chief technology officer. "Since P&G spends about $400 million a year on shipping containers, it makes good sense to donate this technology to WMU so [the school]. . . can provide opportunities for companies like us to benefit from future cost savings."
Going from development to commercialization probably won't be a short-term process. As described by P&G, EPT involves extra converting steps to apply the lignin and then coat the surface to make the lignin insoluble and the board surface printable. It's going to require the cooperation of papermakers, chemical suppliers and equipment manufacturers. That cooperation, however, is probably more likely at Kalamazoo than it would be in P&G's R&D laboratories.
Peterson did tell Packaging World that P&G used the services of some paper industry suppliers to advance the cause of EPT, to test various methods to incorporate the chemicals and to test the resulting containers. And although those companies won't be publicly identified, WMU will be informed about them.
One of the telling parts of the "gift" is that it's not a licensing arrangement. Like an earlier donation to the Milwaukee School of Engineering, this transfer of budding technology is an outright donation without future revenue potential for P&G.
Noting that P&G already has some 25ꯠ patents in its technology vault, Peterson says his group recommends how those patents should be used. "We invent more technology than we can possibly commercialize ourselves, and our goal is to see that all become commercially successful," Peterson tells PW. "Our primary outlet is to use the technology" to benefit P&G's consumer brands.
When the technology doesn't fit that mission, he says, "our group is set up to extract value, either through licensing, selling, donating or even abandoning the technologies. Typically, the technology we donate requires additional development work that would be well-suited to a university and would not be strategic for P&G to pursue."
In fact, Peterson says that P&G hired a paper industry expert to evaluate universities with paper programs, and that's how WMU was selected. Neither P&G nor PTF would hazard a guess about its development timeline.
Over the years, this editor has been repeatedly frustrated by P&G's reluctance to discuss its packaging improvements and technologies. In this case, it's important to give the company appropriate credit for finding a way to see its technology survive and prosper and to assist the PTF and Western Michigan. And more kudos for undertaking the costly patent petitioning process around the world.