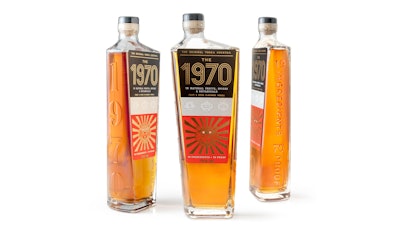 The1970 bottle's most striking element is its offset neck. The feature is aimed at making the vodka-based product stand out from brown liquors, typically packaged in short bottles, on the shelf. "I wanted to it to be thought of as a liqueur, but I didn't want it to look like a liqueur bottle," Feingold says.
Feingold worked with TricorBraun to develop the project. The team turned to Italian bottle supplier Vetri Speciali to both produce the offset neck and handle the embossed elements on the bottle's sides without fracturing the glass. Given the design's tapered, flat panels and thick base, the vendor had to use a semi-automatic process to mold the bottles.
A typical automated parison blow molding process has two steps; first a parison is blown to create blank, and second, the finished bottle is blown using tooling for the specific bottle. A manufacturer needs all of the portions of the mold, including the neck ring, the base, and body to easily line up. After the blank mold creates the parison, it then gets transferred to the blow mold side via the neck ring. Naturally, adding an off-center neck introduced complexity to the molding process.
Further complicating things, the bottle is tall and has a wide footprint that tapers outwards. The manufacturer had to ensure that the final bottle was not going to topple over while on a shelf or anywhere along the distribution chain. The bottle needed a sturdy base.
The semi-automatic process involves a skilled labor step, with a team of several people who are dedicated to taking the initial glass or "gob" of glass from the glass furnace and taking it through the entire parison and blow molding process.
Tapi supplies the bartop closure and Packaging Corporation of America supplies the carton. Feingold and TricoBraun worked with Chicago-based designer Kyle Poff to design the four-color labels, which are converted by Digital/Flexo Divisions. Dehner Distillery does the contract filling and packaging.
The final bottles are hand-labeled and hand-filled due to the unusual shape. Distribution is currently limited to Georgia, with expansion to South Carolina and Florida expected. The 1970 retails for $29.99.