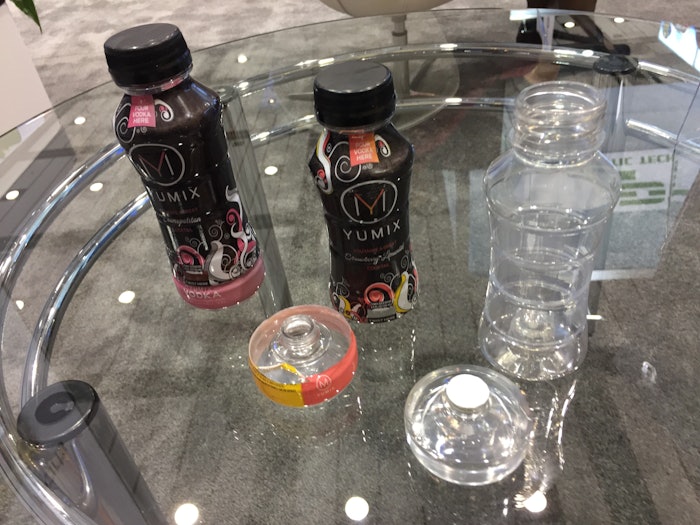 The blow-molded bottle technology is now being made available to brand owners who want to market a product in a package with two separate containers.
Called the Clasper™ bottle, the innovative package development was driven by brand owner Yumix's desire to give adult consumers a great tasting cocktail, which they could mix themselves anywhere, anytime.
It provides a unique packaging solution for boundry-pushing food, beverage, pharmaceutical, neutraceutical, industrial, and chemical products, according to the company. The concept enables two different products to be consumed in sequence, or mixed together and then consumed.
The Clasper™ bottle,is a combination of two injection/stretch blow-molded PET containers and a shrink label. For the Yumix application, the bottom was designed to hold 50 mL of premium alcohol and features a heat-applied aluminum-foil seal. The main bottle holds 6.5 oz. of hot-filled, shelf-stable juice and is topped by a 38-mm polypropylene closure.
"With brand owners continuing to develop new products and create new sub-categories, we wanted to create a disruptive package that pushes traditional boundaries. It gives companies a way to market companion products—such as two liquids or a liquid and a powder— that for whatever reason, cannot be premixed," explained Ron Puvak, director of marketing and new business.
Although the original Clasper bottle was designed for hot-fill application, modifications can be made to accommodate other process types. Added visual appeal is provided by shrink-label graphics that also include usage instructions
Companies in this article