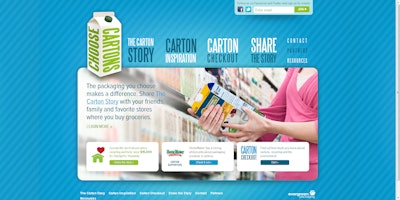 Evergreen Packaging has launched choosecartons.com, an interactive Web site designed to educate and encourage consumers to consider the eco-friendly attributes of packaging in their purchasing decisions.
Visit the fiber-based packaging supplier's choosecartons.com Web site and you'll see a section on "partners" where Florida's Natural, HomeMaker, and Prairie Farms Dairy are all noted for their paperboard carton packaging and promotion of carton recycling.
According to the company press release, cartons provide several environmental benefits, including the following:
• Consumers who choose products in a carton are taking home an average of 94% product and only 6% package.
• Cartons are made with renewable materials—more than 70% of the Evergreen carton is made from paper, all from trees from responsibly managed forests.
• Cartons are made with renewable energy. More than 50% of the energy used to make the cartons comes from biomass.
• More than 42 million households have access to carton recycling.
The site provides information on how to increase carton recycling, and how to get a carton-recycling program started in your community. Interactive games, "green" tips, and includes a showcase of recycled-carton art.