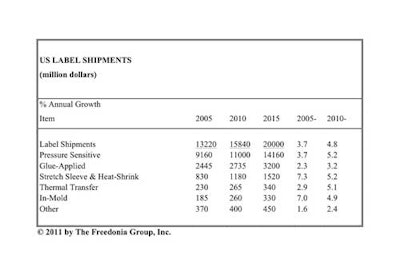 U.S. label shipments are forecast to rise 4.8% annually to $20 billion in 2015, according to a new study, "Labels," from
The Freedonia Group, Inc.
The study also reports that the pressure-sensitive segment will continue to dominate output, accounting for more than 70% of the total. Although p-s labels will expand at a healthy rate, they will continue to face growing competition from alternative labeling methods such as stretch-sleeve, heat-shrink, and in-mold labels. Among these, heat-shrink labels are projected to advance at the fastest rate through 2015, with gains attributable to their ability to form-fit contoured containers, providing 360-deg graphics and a broad promotional area which enable consumer products to stand out on crowded store shelves.
Also according to the study, paper will remain by far the leading stock material in the label industry for the foreseeable future. However, it will continue to lose market share to plastic, which will account for more than one-quarter of label shipments in 2015. Plastic stock materials will gain popularity due to their aesthetic and performance advantages over paper, as well as a broad shift in favor of plastic packaging. Moreover, plastic is heavily utilized in p-s, heat-shrink, stretch-sleeve, in-mold, and thermal-transfer labels, each of which is expected to grow at a healthy rate.
Among plastic label resins, polypropylene and polyvinyl chloride are widely used, although the latter will lose out to other plastic substrates with lower perceived environmental and health risks. In particular, trends favoring more environmentally friendly substrates will propel gains for polylactic acid, albeit from a very small base.
Primary packaging represents the leading application for labels in the U.S. market. Label demand in this sector will be driven by a shift in product mix favoring higher-value label types (including large, full-body labels, plastic labels, and those featuring higher-end inks and printing technologies), as labels play a crucial role in the building of brand identity in an intensely competitive consumer product marketplace. However, the secondary packaging and mailing and shipping segments will achieve more rapid demand gains. In secondary labeling, advances will be supported by the penetration of bar-coding labels in the transportation and distribution sector, along with the significant potential for smart labeling markets such as food safety applications.
"Labels" is available for $5,100 from The Freedonia Group, Inc. For further details, contact Corinne Gangloff by phone 440/684-9600, fax 440/646-0484, or e-mail
[email protected]