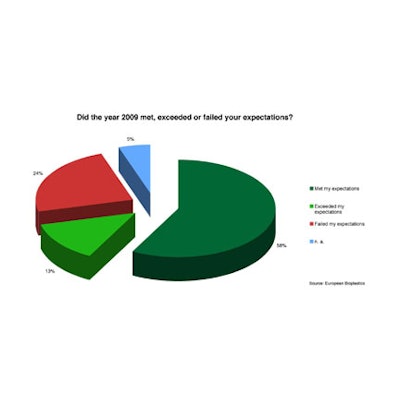 Bioplastics are a profitable business to be in right now, despite global economic challenges. That's according to a summary of the findings of a poll conducted by the European Bioplastics association of its members. The bulk of companies questioned reported healthy growth figures for 2009, in some cases considerably more than 5% over the previous year. The figures fulfilled—and sometimes exceeded—expectations, the association says. In May, 38 companies, among them many world leaders in polymer manufacture, revealed how they had fared in 2009 and voiced their expectations for the current year and 2011.
Forty-seven percent of companies recorded growth in turnover, while another 32% managed to at least draw level, and only 10% of companies posted losses. Seventy percent of those polled had their expectations confirmed, as against a quarter of firms questioned who were not able to live up to their own forecast.
Polymer companies see a positive trend overall for both this year and next: In all, 80% of those polled were optimistic, with 20% anticipating satisfactory results, 40% good results, and 20% excellent results. Based on these healthy expectations, two thirds of the companies will be increasing their investment in the sector this year.
"This is a clear indication of the strength of green innovation and the companies driving it forward," says Andy Sweetman, chairman of the European Bioplastics board. With a market share of less than 1%, bioplastics still represent a niche product, despite generally high rates of growth.
Adds Harald Kaeb, political consultant to the association, "What is missing are incentives from an effective stimulus programme to boost the market. Then companies would be better placed to finance their innovations and the necessary expansion in capacity."