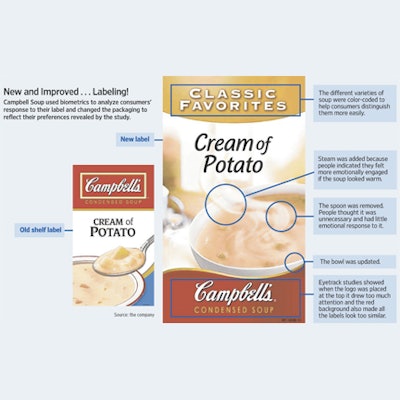 Could "neuromarketing" be the research approach of choice in the future that ties package design on a much deeper level to human emotions? All eyes will be on Campbell Soup Co. over the next two years to find out. If Campbell's hunch proves correct, it could achieve its goal of a 2% increase in condensed soup sales through 2011.
As reported in the Wall Street Journal, Campbell has been studying in earnest for two years how to get people to buy more soup—and thereby increase sales in a slow-growing category. The trick, Campbell says, is to determine what motivates people to buy soup.
Campbell is turning to technology companies to measure consumers' unconscious responses in the brain and elsewhere in the body to marketing messages, and how shoppers glean meaning from the new information. Campbell is doing this in part by measuring tiny changes in skin moisture, heart rate, and other biometrics to determine consumer reactions to various parts of the label design on cans of Campbell's soup.
As a result, changes are coming in the label design. According to the Journal article, they include color-coding, more vibrant food photography showing steam rising from the soup, and the elimination of "unemotional" elements such as the spoon in the soup bowl.
Cost and speed issues heretofore have limited neuromarketing's use to only a few companies. As this research method undergoes further refinements, it will be interesting to see how it might evolve package design in other "commodity" categories, especially if brand managers can resist the urge to act big and start thinking small again—and reinvent their brands with new dimensions of shopper relevancy in the process.