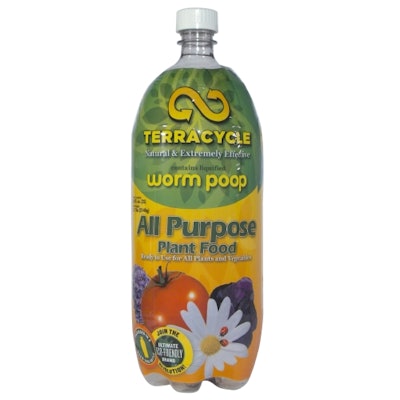 A lawsuit filed in March against "liquid worm poop" plant-food packager TerraCycle, Trenton, NJ, by competitor The Scotts Co., Marysville, OH, was settled in September. The legal dispute involved Scotts' claims of false advertising and trade dress infringement. In response, TerraCycle is changing the graphics on its shrink-sleeve-labeled bottles of organic plant food. Its packaging comprises reused 20-oz and 1- and 2-L PET bottles, and 1-gal HDPE milk jugs.
In the settlement, TerraCycle Inc. has agreed to change certain advertising claims and its package design to avoid possible consumer confusion, and Scotts has agreed to dismiss its false advertising and infringement claims.
Scotts spokesperson Jim King says, "Scotts is pleased to resolve this case and believes that the settlement serves the public's interest in ensuring the accuracy of advertising claims, as well as protection of the valuable Miracle-Gro brand."
New look is 'hippie earthy'
The look of TerraCycle's label is changing in colors and proportion, from a strong yellow with green accents to a strong green with orange accents, according to Albe Zakes, TerraCycle's director of public relations. "This is a better label for TerraCycle because it has a kind of funky 'New Age' look to it. The green part has orange swirls in it like a tie-dye pattern, and it looks kind of 'hippie earthy'-a lot like what TerraCycle is all about." The image of the new design can be seen at left; old design is below.
Fortunately for TerrraCycle, it didn't have to remove product from store shelves, Zakes says. Instead, the graphics change will be made across its line of about a dozen products as each product's supply of preprinted shrink sleeves is exhausted. "Starting in 2008, all of our products will be in the new packaging," says Zakes. "Our new drain cleaner and bird feeder are both already in the new format."
Zakes tells
Packaging World
that the lawsuit was draining about one-third of TerraCycle's monthly revenues. More information can be found at TerraCycle's www.suedbyscotts.com Web site.
To listen to a Podcast to learn more about TerraCycle, the company built on worm poop and reused packaging, see
Podcast: TerraCycle talks
.
For more on TerraCycle, see the feature article in the November issue of
Packaging World
or check back at the Packworld.com site in early November.