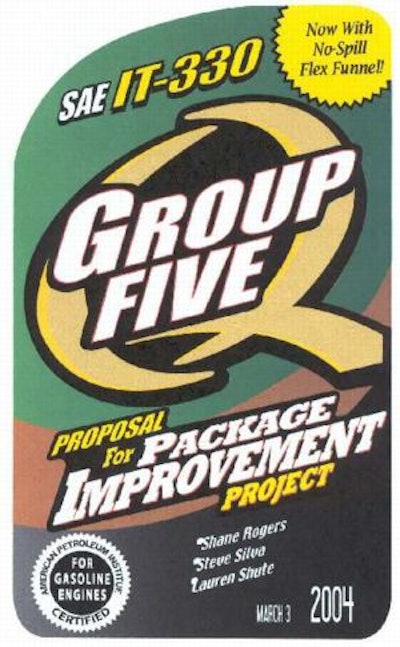 Packaging students from California Polytechnic State University, San Luis Obispo, CA, completed group class projects in March that involved developing new packages and containers. The Packaging Insights newsletter will be highlighting several of these theoretical packages in the months ahead, including this month's design: a No-Spill Flex Funnel for motor oil in clear blow-molded PET bottles with an injection-molded polyethylene cap. This project was the brainchild of Shane Rogers, Steve Silva, and Lauren Shute.
Once the tamper-evident twist-off cap is removed, the customer stretches the accordion-style funnel to its full length. Incorporating the funnel directly in the bottle makes it more convenient, reducing spilled oil and eliminating the need for paper funnels.
The group project was part of the university's Fundamentals of Packaging course. A summary follows. For those interested in further information, contact program director Jay Singh, Ph.D., phone 805/756-2129, e-mail jasingh@calpoly.edu. Also visit PW's Web site resource page on packaging universities.
Project overview
The students chose Quaker State as the springboard for their own value-added version, retaining the PET bottle in the students' version. They felt that PET is a good barrier material, and has excellent dimensional stability and impact strength.
The closure on the current Quaker State motor oil bottle is high-density polyethylene. It features continuous threading, a TE band, multiple-edge seal, and knurl. HDPE will be used for the new closure, as well as the flexible funnel.
The new package will make filling the oil into an engine a lot easier by eliminating the use of a separate funnel. All the consumer has to do is twist the cap off, pull the flexible funnel out, and pour the oil directly into the engine's crankcase. This one-step process eliminates any messy cleanup for consumers.
Also, it avoids oil spilt on engines that can be extremely difficult to clean. The new bottle eliminates oil spills and prevents the engine from running hotter.
The No-Spill Flex Funnel design adds to perceived customer value. A new label design will highlight this new feature without obscuring the brand's equity. Although not pictured, the back label will carry instructions and illustrations on proper use of the No-Spill Flex Funnel.
Project references
Simkin, Lyndon, and Dibb, Sally Marketing Intelligence and Planning vol. 16, no. 7: 407
Gray, Robert Marketing Jan. 8, 2004: 23
HJ Ventures International, Inc.
Ellis, Rebecca Bell. B to B vol. 88, no. 5: 28
CLARIFICATION
Since the publication of this article, Packaging World has been contacted by Marguerite Wills, who claims that she invented the flexible spout and was issued design patent #29/183궺 for the invention. Wills is claiming patent infringement and says she has contacted the university. For further information from Wills, visit www.willsandcompany.com or phone Wills & Co. at 248/477-5177.