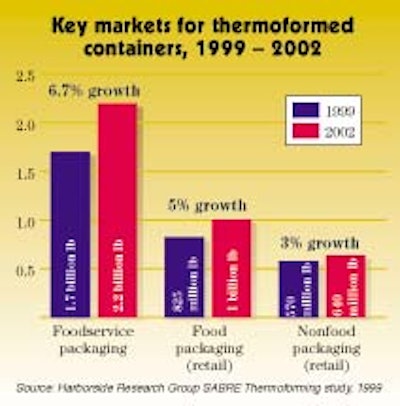 Those are among the findings of "Thermoformed Packaging & Disposables," a newly published study from Harborside Research Group (Salem, MA).
The study analyzes the use of thermoformed containers, made from different resins, from 1998 through 2002. It anticipates resin consumption for thermoforming applications to grow from 3.3 billion lb in 1999 to 3.8 billion lb in '02. The study says PP and polyethylene terephthalate will show strong growth.
The most dynamic thermoforming opportunities for packaging, the report forecasts, will be in "new product formats and case-ready [meat and poultry] options that will redefine packaging performance requirments." Other growth areas, the study notes, include thermoformed containers "for the increasing sales of take-home prepared meals in foodservice containers, prepackaged produce and baked goods, and for yogurt and other dairy packages."
As the accompanying chart shows, thermoformed containers for foodservice applications are expected to grow to 2.2 billion lb in 2002 (up from 1.7 billion in '99). For food packages (usually retail), the forecast calls for 1 billion lb in '02 (from 825 million lb in '99). Nonfood packages are expected to climb to 640 million lb in '02 (from 570 million in '99).
The multi-client study is based on interviews with end-use companies in various product market segments, material and equipment suppliers in the U.S. and Europe, and thermoforming fabricators and distributors. Done in conjunction with Strategic Analysis Base Report (SABRE) Associates, this is the fifth in an ongoing series of comprehensive studies. Subscribers to SABRE will receive three bound copies of the study, with additional copies available at $150 each. The subscription price is $9꼀.
Companies in this article