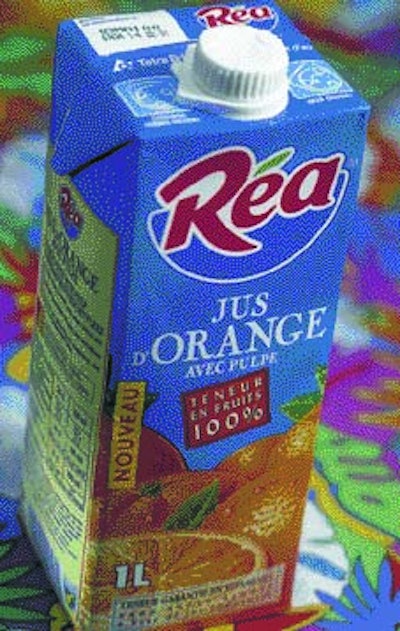 Based in Sarre-Union, the beverage company has been using the threaded reclosure feature on 10 Rea brand fruit juices since late last year. The 1-L juice packs sell for about 8FF (US$1.30) the same as the previous package in supermarkets throughout France.
According to marketing director Francois-Xavier Thery, sales of juices in the SpinCap package are up 15% compared to sales a year ago of a conventional 1-L aseptic brick pack. And overall juice sales in France are up only 1%.
The SpinCap permits the packages to be stored horizontally on a refrigerator shelf, even after opening. The new closure is about 10 to 20% more costly than the flip-style fitment.
Les Vergers D'Alsace fills the package on Tetra's blank-fed TBA model that prepunches an 80-mm hole through the paperboard in the top of the package.
In a secondary operation, an injection-molded polypropylene fitment is heat-sealed over the hole. This fitment consists of a spout that remains firmly affixed and a cap for removal. When the consumer twists open the cap, a piece of plastic protruding from the underside of fitment pierces the foil cleanly to provide access to the juice.
Companies in this article