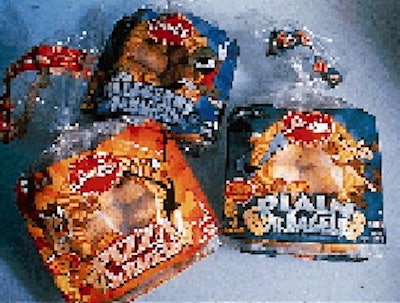 Bagels.
Flexo-printed in eight colors by a converter that Sara Lee elects not to identify, the 2-mil polypropylene bag displays the Warner Bros. circular stage logo around a clear window that shows off the kid-sized bagels. Package design is the work of The Coleman Group (New York, NY). Vibrantly colored Looney Tunes characters seem to jump off the bag, which holds 10 oz of bagels.
Sara Lee hopes the strong, attention-grabbing graphics will attract their targeted 2- to 12-year-old age group. "The use of the characters allows us to take Sara Lee, which tends to be more adult, and give it more of a family feel," says Dawn Caldwell, director of marketing for Sara Lee Fresh.
The Jr. Bagels sell for $2.99 and are available in 25% of the country covered by Sara Lee Fresh's Direct Store Distributions system, which includes California, Arizona, Nevada, Texas, Oklahoma and Illinois.
Topped with a quick-lock closure, the Jr. Bagels come in six varieties, but Caldwell says Sara Lee is looking to add more flavors to its lineup.
Companies in this article