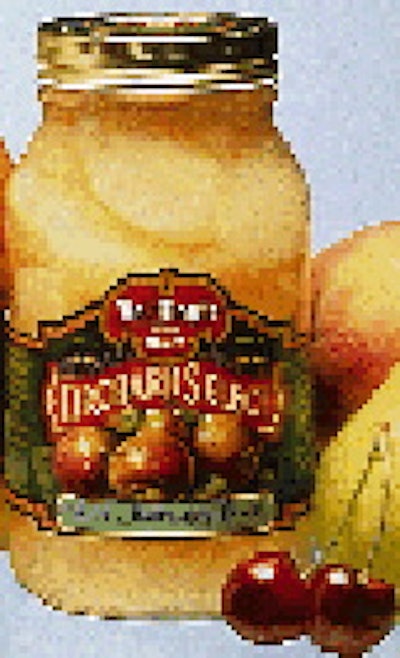 The current package (shown here) is a 26-oz stock jar. It takes a pressure-sensitive polypropylene label flexo printed in seven colors. It has a 70-mm finish and a threaded steel closure. In July, Del Monte is moving to a 26-oz custom jar by Owens-Brockway (Toledo, OH) to "personalize" the packaging more, says Shiela Zimmerman, associate product manager at San Francisco-based Del Monte Foods. The mason-style jar will also have cup measurements going up the sides for a home-canning look. Starting in July, the fruit will be packed and retorted in Del Monte's San Jose, CA, facility.
Del Monte is also changing to a larger PP label. Again it will be flexo-printed, but this time by Flextech (Elk Grove Village, IL) and in eight colors. Originally Del Monte had been using a paper label, which proved to be problematic because the labels peeled off when retailers put the product on ice. The use of pressure-sensitive PP has solved that problem. "It was an issue trying to get a label to work because it had to withstand being on ice or refrigerated. We've changed it several times, and now we've got one that works," Zimmerman says.
Printed in four colors plus gold laquer by Crown Cork & Seal (Philadelphia, PA), the deep-skirted, 75-mm, threaded closure displays the Del Monte Shield with the phrase "Del Monte specialty-selected produce." This indicates it should be merchandised not in the grocery aisles but in the produce section of stores. "We prefer it to be on a wood rack in produce," Zimmerman says, because it sells twice as fast when it's on a wood rack next to cut or fresh fruit.
Selling for approximately $3.00 each, Orchard Select in its new package will roll out nationally this summer to grocery and club stores in three varieties: Sliced Yellow Cling Peaches, California Mixed Fruit and Sliced Bartlett Pears.
Companies in this article