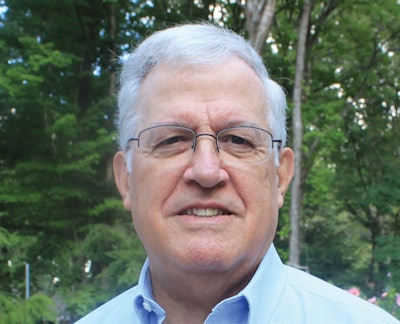 Several retortable plastic food can technologies are in the final stages of development. At least two of them—the TruVue™ extrusion-molded can from Sonoco Products Co. and a rotary thermoformed straight-walled plastic can made by Silgan Plastics of a clarified polypropylene/EVOH structure—will likely be exhibited at PACK EXPO International in Chicago in November. Even before then, one of Sonoco's customers is expected to put a clear barrier plastic food can on supermarket shelves in the Southeast.
Sonoco is aiming its new plastic can (shown) at "processed and shelf-stable foods like soups, sauces, fruits, and vegetables—even wet pet foods."
There are those who think that dog food will be first on the shelf in plastic cans. But to me, the phrase "looking like something the dog ate" comes to mind when envisioning dog food in clear plastic cans. Peek into the corner of some of the contact-clear bowls of dog food already on the market to see what I mean. On the other hand, the plastic-canned fruits and veggies I've seen are pretty appealing from a consumer point of view. Granted, when I saw them they were in trade- show exhibits designed to show them in the most flattering light. If and how plastic cans might appeal to packers will depend less on how they look and more on
• their economics, and
• their packing, warehousing, distribution and retail performance.
While Sonoco isn't saying much about economics, the company confidently asserts that its "clear, retortable plastic can has the potential to revolutionize not just the canned food aisle in supermarkets, but an entire food category that has not seen significant innovation in decades and is challenged to meet the demands of a new generation of shoppers." Its TruVue can is a straight-walled, contact-clear, three-piece plastic can with flangeless metal ends, top and bottom, heat sealed to the plastic sidewalls. It is engineered to run on standard metal can processing equipment, which canners will appreciate. How much modification their processing and packaging lines might need to run the plastic cans is something canners will need to know before committing. Sonoco points out that the heat transfer rate through the metal ends during retorting "offers improvement over full plastic-bodied containers, reducing required cook-cycling times compared to those required by traditional two-piece plastic offerings. "The can's metal ends allow for good rolling action through the continuous cooker, providing a uniform heating performance throughout the retort process."
Sonoco hasn't publically announced the polymer structure of its multi-layer TruVue container, but it is believed to be similar in composition to the Perma-Safe® injection-molded polypropylene/EVOH/polypropylene containers developed by Weidenhammer Group and used commercially in Europe by several packers. Sonoco acquired the Weidenhammer business in 2014.
The Silgan Plastic Food Containers operation of Silgan Plastics is eyeing the market for a two-piece retortable plastic can it calls the Straight Wall Plastic Can (shown). Silgan touts the plastic can's microwaveability, reclosability, dent resistance, and ability to preserve a food product's organoleptic qualities as advantages over conventional steel food cans, calling it "the most revolutionary product suitable for retort systems without overriding pressure."
With a nod to economics, Silgan says "existing assets can be retro- fitted to handle this container making any migration project affordable and easy to implement; most of it runs at similar speeds." The integral base on the can could be configured as a vacuum panel to prevent sidewall paneling as retorted contents cool.
Another vendor entering the market for retortable plastic food cans is Milacron, a machinery manufacturer at its core, which ventured into the plastic food and beverage can business through the 2014 acquisition of the Kortec Klear Can co-injection technology, which it now calls Milacron Co-Injection. The technology produces two-piece PP/EVOH/PP or PET/EVOH/PET cans for "sensitive food and beverage products" such as beer, tomato-based sauces, meat, baby foods, hot teas, carbonated soft drinks, and others. Right now, food packers—a notoriously tight-fisted bunch—are asking a lot of economic and performance questions about the plastic cans. If the plastic canmakers have the right answers to those questions, fruits and veggies could well become the killer apps for plastic cans.
Ben Miyares, Packaging Sherpa, is a packaging market and technology analyst and is president of The Packaging Management Institute, Inc. He can be reached at bmiyares@packmgmt.org.bmiyares@packmgmt.org