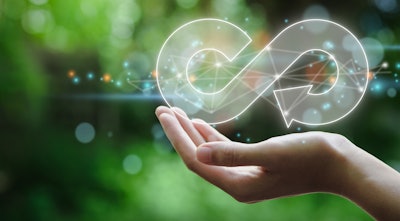 Keeping plastic in the loop is the goal of a new pilot undertaken by international dairy foods company Arla Foods and film producer Südpack whereby a portion of the cheese maturing bags used in Arla's cheese production process are being chemically recycled and made into new packaging. The pilot relies on Recenso's Carboliq chemical recycling process, which is being done at an industrial-scale pilot facility in Ennigerloh, Germany, jointly operated by Südpack, Clean Cycle Investments, and Recenso's subsidiary, which also goes by the name Carboliq.
Cheese maturation is a scientific process that develops the flavor and texture of cheese over time. At its Rødkaersbro dairy in Denmark, Arla matures its mozzarella cheese by placing it in specially designed maturing bags for about two weeks. The plastic bags are made of multiple film layers that act as a barrier to oxygen, preventing the formation of mildew and the emergence of pathogens and harmful microflora. Because of its multilayer construction, the bags cannot be recycled through mechanical means. Instead, the 220 metric tons of maturing film used by Arla each year are incinerated.
---
---
"At Arla Foods, we have a 360-degree approach to packaging—how was the material sourced, what qualities does it possess, and how can it be disposed of after its functional use," says Grane Maaløe, lead packaging development manager at Arla. "In this pilot, we are finding a new use for our maturing film previously sent to incineration and are closing the loop by applying the recycled material into new food packaging, improving circularity, which is one of the cornerstones in our sustainable packaging strategy."
For the pilot, Arla is sending 80 metric tons per year—the volume that can currently be accommodated by the Carboliq pilot facility—to Ennigerloh where it undergoes a proprietary one-stage conversion process that liquefies solid hydrocarbons, resulting in Carboliq's CRL (Circular Liquid Resource), or a high-yield oil that can be used to manufacture new high-end polymers. According to Carboliq, its process is characterized by the application of thermal, catalytic, and physical forces for cracking hydrocarbon and by its ability to use a wide range of mixed-waste plastic or agricultural waste biomass as feedstock.
Says Dirk Hardow, business unit manager functional films and compounds for Südpack, while one metric ton of mixed plastic waste does not equal one metric ton of new packaging, "it does reduce the need for fossil feedstock, and it paves the way for increased investing in this infrastructure moving forward."
Furthermore, reports Südpack, factoring in the loss of electricity and thermal energy that incineration delivers, and the negative impact of transporting the films from Denmark to Germany, the calculation behind the test still comes out in favor of chemical recycling when it comes to overall carbon emissions. Per metric ton of plastic waste, the full processing, including the chemical recycling process, emits up to 50% fewer GHGs than sending the maturing film to incineration, the company advises.
---
---
The pilot began in 2021. Upon conclusion of the pilot, Südpack and Arla will evaluate and plan the next steps. "The aim is to create a business case comparing the economic, practical, and environmental impact of the process," says Maaløe. "We will use the results not only internally, but also share our findings with national waste sorting shareholders to make sure we work bilaterally to create the best recycling infrastructure for the future." PW
Companies in this article