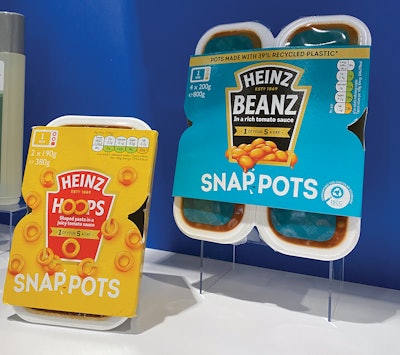 Heinz and Tesco in the UK are collaborating with Berry Global in a first-of-its kind project to permit the advanced (chemical) recycling of flexible film packaging dropped off by customers at Tesco's in-store collection points. Also on the team are recycling technology experts Plastic Energy and SABIC, and together the team has launched a pioneering trial with the development of new Heinz Beanz Snap Pots that incorporate 39% ISCC PLUS-certified recycled flexible film.
According to Berry, the flexible films collected in Tesco's stores are taken to Plastic Energy and physically segregated for conversion by pyrolysis—the thermal decomposition of materials at elevated temperatures in the absence of oxygen—into an optimal oil feedstock. This feedstock, which Plastic Energy calls TACOIL, is combined with virgin material by SABIC to produce an alternative feedstock for making food contact-approved plastic pellets. These pellets are sent to an ISCC-certified Berry Global site and combined in a coextrusion of PP/EVOH/White Masterbatch/PP-based adhesive. Then comes thermoforming, also by Berry. After Heinz fills and lids the pots, they undergo thermal treatment at 121˚C for about 30 minutes to render them shelf stable at ambient temperatures.
"This is a prime example of an innovative advancement in circular packaging design made possible by collaboration across the entire value chain," says Berry's Galvez. "This approach helps capture and reuse plastics that currently go unrecycled, to keep materials in use and out of our oceans and landfills."
The 50/50 joint venture between London-based Plastic Energy and Saudi-based SABIC is fascinating to say the least. It's called SPEAR (SABIC Plastic Energy Advanced Recycling BV), and it's being executed with a Top Sector Energy Subsidy from the Ministry of Economic Affairs in the Netherlands. That country, specifically the town of Geleen, is also the site of the new production facility. SABIC and Plastic Energy have worked together with leading customers and converters to produce and commercialize certified circular polymers since early 2019. But with the Geleen facility in commercial operation, SABIC can significantly upscale the production of certified circular polymers to provide customers with greater access to sustainable materials that have been recycled, repurposed, and produced in a way that can provide a drop-in solution that helps protect the planet's natural resources.
"Advancements in this pioneering project take us one step closer to driving the change needed to become a circular global industry," says Fahad Al Swailem, vice president, PE & sales at SABIC. "We have overcome significant external, global challenges to reach this important
milestone and remain fully committed to closing the loop on used plastic. We are continuing to collaborate on an unprecedented level with our partners upstream and downstream to achieve this."
"It has been an exciting journey in making our vision of building advanced recycling plants come to life," says Carlos Monreal, Founder and CEO of Plastic Energy. "We have worked jointly with SABIC towards our common goal of making plastics more sustainable and moving towards a more circular economy for plastics."
The 39% recycled plastic that the new snap pots contain was validated using an approach endorsed by ISCC. This makes it possible to track the amount and sustainability characteristics of materials used in the manufacturing process. The recycled material meets the requirements of food-contact safety regulations and provides a replacement for virgin polypropylene in the thin-wall pack with no compromise on processability or mechanical performance.
"We want our Snap Pots to be more sustainable while retaining the features that make them so popular with consumers: their convenience, handy snappable format, microwavability, and ensuring the product remains fresh," says Héloïse Carlier, senior packaging development technologist at Heinz. "With this project and our introduction of the new Heinz Beanz Snap Pots, 22 tons of [flexible film] will be recycled."
To date flexible film packaging has been notoriously difficult to recycle. Until 2020, just 6% of the material was being recycled in the UK. It is hoped this venture will inspire the wider industry to take action in tackling this issue, both in the UK and other countries across Europe.
"We're proud to have teamed up with leading experts to bring this important innovation to our customers," says Jojo de Noronha, Heinz's president Northern Europe. "Our hope is that this prompts an industrywide look at what more can be done to address the lack of [flexible film] being recycled in the UK, and we can, as a collective, get better when it comes to developing new packaging solutions that are good for both our consumers and for our planet." PW
Companies in this article