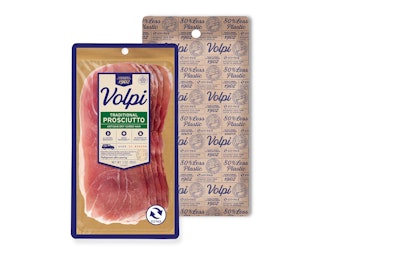 "Serving generations of meat lovers since 1902," St. Louis-based, family-owned and operated Volpi Foods offers a large selection of dry-cured meats—salami, coppa, prosciutto, and mortadella among them—to retail stores nationwide from its location in the Italian neighborhood of The Hill. According to Volpi Foods Marketing Communications Specialist Madeline Gauch, sustainability is important to the company, as it demonstrates that Volpi has its customers and future generations in mind. "We've always been thinking about sustainability and improving our efforts, as we want to lead the way," she says.
This emphasis on sustainability extends to its packaging, as well. In early summer 2023, Volpi introduced new packaging for its sliced, cured meat, a fiber-based thermoform tray with a plastic layer that can be removed to allow for recycling of both the paper and plastic. The Ecocraft Shape from Südpack is constructed of 80% paper-based material and 20% polyethylene film and uses what the supplier calls a "functional layer" to enable easy, fiber-free separation of the paper and film.
---
---
Prior to its use of the Ecocraft Shape, Volpi was a using another fiber-based composite, however the layers could not be separated. The Ecocraft not only offers recyclability of both layers, but it also retains the same 90-day shelf life as the previous packaging, provides good formability for cavities up to 15 mm deep, and is compatible with all Südpack top webs with a PE sealing layer.
The new package is printed with Volpi's trademark blue logo on the front as well as on the back in a repeating pattern. The top web is also coated with a lacquer that enhances the package's shelf presence and provides protection from moisture throughout the supply chain. In addition, instructions on how to separate the layers for recycling are printed on the back of the pack; Volpi also communicates this information through its digital media.
"On the new packaging, we can now highlight the fact that it is 80% recyclable," says Gauch. This attracts customers' attention and supports our brand promise to work for a more sustainable future, which is crucial in terms of building customer loyalty." PW
Companies in this article