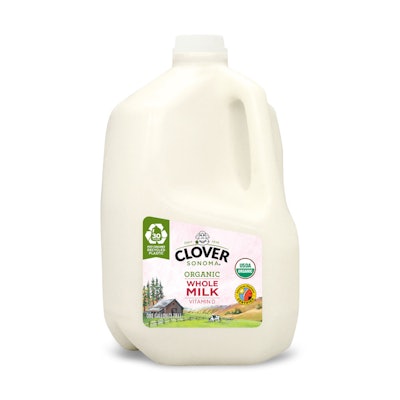 The use of recycled material in food and beverage packaging, whether it be plastic, aluminum, paper, or glass, has been a common practice for decades. One anomaly, however, has been the use of recycled high-density polyethylene by dairy producers for its fluid-milk jugs. However, according to Sonoma County, Calif.-based Clover Sonoma, in Q2-22, it became the first, launching a one-gallon jug for its organic milk that includes 30% rHDPE.
It was a fitting move for the third-generation family-owned and operated dairy, which, according to Clover Sonoma Vice President of Marketing Meg Sutula, is committed to bringing conscious dairy products direct from its family farms to consumers. "As a Certified B Corporation, the company uses its business as a power to do good, and its passionate support of animal welfare, sustainable practices, and local community have always been hallmarks of the business," she shares.
This philosophy also extends to the business's packaging, Sutula adds, as it looks for innovative ways to decrease the use of fossil fuels, utilize less plastic, and encourage recycling. In 2020, the company introduced a milk carton comprising 100% plant-based materials. It also eliminated plastic caps on paper milk cartons to reduce plastic waste. "Being the first to come out with a 30% PCR-content gallon milk jug is the next step in sustainable packaging innovation," the dairy producer says.
---
---
To develop and source the recycled-content jug, Clover Sonoma worked with consultant Roger Zellner of Rogue Zebra, and with Altium Packaging and its Envision Plastics business, which supplies the recycled HDPE resin. According to Altium, while Envision's EcoPrime food contact-approved rHDPE has been available for more than 15 years, manufacturers and brands have been slow to adopt the material. "This is likely due to a lack of experience running PCR and also cost, as PCR is a premium over virgin plastics," explains Josh Hovis, vice president of sales – North America, for Altium.
Another challenge for milk producers seeking to use rHDPE in their milk jugs has been sourcing clear PCR content. "PCR content in other consumer packaged goods products is more readily available, but food-grade PCR content has been less available," Sutula explains.
EcoPrime is made from curbside-recycled food and beverage packaging and uses a unique, patented cleaning process designed to eliminate contaminants. According to Hovis, Envision is one of the only companies with a Letter of No Objection from the FPA. Regarding the clarity of EcoPrime, Envision reports that the material yields products that are suitable for use in white and natural bottles.
During the development process of the recycled-content jug, Sutula says Clover Sonoma overcame challenges using PCR resin by doing the pre-work upfront. As she explains, jugs were tested for overflow to verify they were the correct volumes, and drop tests were performed to verify packaging integrity, simulating the dairy producer's automated casing.
---
---
Clover Sonoma launched the new recyclable, recycled-content one-gallon container for all of its organic milk (with the exclusion of those products sold in Safeway) last year, topping it with an HDPE closure that is also recyclable. Recycling symbols on both the front and back labels indicate that the jug and cap are recyclable, but advises consumers to check best practices with their local recycler.
The new jug is a sustainability coup for Clover Sonoma, but one that comes at a price: the PCR resin is 8% to 10% more costly than virgin HDPE resin. Says Sutula, "Finding sustainable solutions means taking risks and investing in what's best for the planet. We are focused on improving our packaging across product lines using reusable, recyclable, renewable, and environmentally conscious resources. We encourage the food industry to join us in this effort."
Having shattered the glass ceiling for rHDPE use in milk jugs, Clover Sonoma has also committed to increasing the PCR content used in its organic milk jug as well as extending the use of PCR across all of its gallon milk jugs by 2025.

Companies in this article