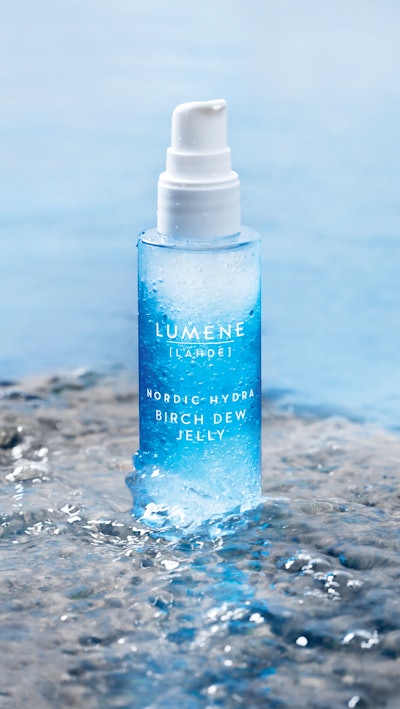 Beauty brand LUMENE is launching its new Nordic Hydra Birch Dew Jelly skincare line in a recyclable bottle containing chemically recycled PET content from Eastman. It's also recyclable in the PET stream.
For this product's bottle, LUMENE chose to use 50% certified-recycled content that is specifically designed for extrusion blow molding (EBM). Recycled content is allocated via the ISCC-certified mass balance approach. The chemically recycled resin, Cristal One E, is Eastman's latest addition to its Cristal One portfolio.
"LUMENE's ambition is to have 80% of its packaging made of recycled or recyclable materials by the end of 2025. When developing this two-in-one hydrating skin care product, we were looking for a sustainable packaging option that would not compromise on the product presentation. Cristal One E allows visibility of the beautiful formula and elevates the overall consumer experience," says Julia Vlasova, global senior brand manager at LUMENE.
"All of the recycled content in Cristal One E is from Eastman's molecular [chemical] recycling process," adds Rainey Garland, market development manager - Cosmetics and Personal Care at Eastman. "It is part of our polyester renewal technology that unzips the polymer and uses the monomers to create new materials."
Eastman says the resin provides brands the brilliance and luster of glass with rigid, thick-walled construction for EBM that is not typically achievable with conventional recycled resins. So, what makes this particular resin so great for EBM processes? It's formulated to a higher intrinsic viscosity (IV) than typical resins used for injection molding or injection stretch blow molding. This enables the parison to be supported while the mold closes around the resin during the EBM process.
LUMENE worked with bottle molder and EBM specialist Rebhan to bring the package to market. The two selected Cristal One E Renew to maximize the sustainability profile of the Nordic Hydra Birch Dew Jelly's cleverly designed bottles, which feature a vibrant blue-gradient decoration. It was important that the packaging enhance the unique formulation of the serum-in-moisturizer, which is based on a potent combination of organic Nordic birch sap, triple-hyaluronic acid, and new, innovative moisture spheres to quench and deeply hydrate skin, the brand says.
Both Cristal One E and Cristal One E Renew are compatible with the PET recycling stream and are endorsed by the Association of Plastic Recyclers (APR) and the European PET Bottle Platform as Resin Identification Code 1 (RIC1).
The bottle is labelled with a PET label, which is two-color digitally printed.

Companies in this article