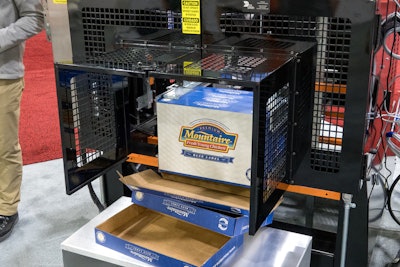 With some of its contract farmers "powered by the sun," its nothing-goes-to-waste philosophy for its chicken processing business, and its efforts to decrease its use of land and water, Mountaire Farms in Millsboro, Del., strives to be a model for sustainability in the poultry industry. And that commitment extends to its packaging, as well.
In 2021, Mountaire—the fourth largest poultry processor in the nation—began using DS Smith's Greencoat recyclable, corrugated shipper as a replacement for the wax-coated cases traditionally used for meat, poultry, and seafood products. While wax-, or paraffin-, based coatings prevent the moisture that results from the cold and wet environments in which these products are found from damaging the corrugated cases, it makes the shippers non-recyclable. According to DS Smith, not only do these cases end up in landfill, but the cost for companies to get rid of them is steep as well. "U.S. retailers and restaurants pay approximately $50 million annually to dispose of roughly 1.47 million tons of these wax-coated boxes," it shares.

---
---
DS Smith's proprietary Greencoat coated material is certified by USDA, the Canadian Food Inspection Agency, and FDA as being a food-safe alternative to wax-coated boxes that provides the same performance characteristics while being certified 100% recyclable and repulpable by the Fibre Box Association. Says DS Smith, this eliminates wax disposal fees for customers, creates a revenue stream from recycling, and decreases the amount of corrugated going to landfills, thereby reducing greenhouse gas emissions.

In 2021, Mountaire used the recyclable case to replace nearly 87,766 tons of wax-coated containers that would have otherwise gone to landfill. This saved 205,254 tons of GHGs from being emitted and set the brand up to achieve the conservation of more than 2 million tons of GHGs in the next 10 years with the same rate of replacement. Says DS Smith, "That's enough to offset emissions from 432,110 vehicles, more than 1.5 million barrels of oil, and the energy spent by 78,870 households every year."
Says Catherine M. Bassett, Director of Communications and Community Relations for Mountaire Farms, "DS Smith's Greencoat boxes have helped Mountaire meet our growing customer demand while offering the best possible solution for recyclable boxes. We're proud to use a product that is fully recyclable and biodegradable while still holding up to the harsh conditions of the supply chain."

Companies in this article