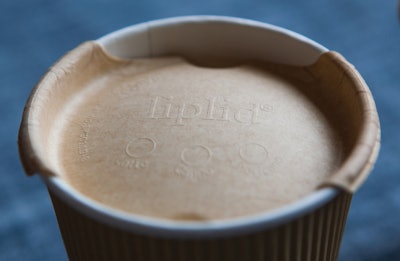 A Swedish collaboration between foodservice brand MAX Burgers and its suppliers PulPac and Liplid is replacing the traditional plastic lid with what the trio says is a more sustainable fiber-based alternative.
"As a restaurant we are part of the problem, but we want to be part of the solution. We want to be a role model for our industry. When we go public with how our meals affect the climate, our guests can help us to lower our joint impact," says Richard Bergfors, President of MAX Hamburger, on the company's website.
MAX Burgers says it is the first quickservice restaurant chain to label and compensate for the food's impact on the environment. As part of this ecologically minded stance, it will start to roll out the Liplid in all its restaurants in Sweden in 2022.
"For us at MAX, this collaboration is a perfect solution. We work continuously to develop our business and our menu to reduce our climate footprint. And we always strive to improve the experience for our guests. We've analyzed the coffee lids on the market and focused in on Liplid as the best out there," says Malin Laurén, Global Head of Purchasing at MAX.
"This has been a fantastic project, where we have adapted Liplid's brilliant product to our technology and will manufacture the first series of two million lids for Liplid. We look forward to seeing them go live at MAX Burgers", adds Sanna Fager, Chief Commercial Officer at PulPac.
PulPac says that its fiber forming technology made the unique lid from fiber possible, and adds that dry molded fiber offers benefits such as structural strength, undercuts, de-nesting, advanced geometries, and control of material thickness, making it possible to produce very thin fiber products. The dry process also saves water and energy, resulting in up to 80% lower CO2 footprint compared to alternatives. Besides the technical and environmental advantages, PulPac says its technology offers highly competitive unit economics, which it says makes it possible to replace single-use plastics at global scale.
"The world needs smart and functional alternatives to single-use plastics. Using PulPac's innovative approach, we at Liplid produced a fully recyclable, plastic free and biodegradable cup lid with a new and unique design—bringing a new drinking experience to the market," says Jesper Berthold, CEO at Liplid.
The lid is placed inside the cup, rather than on it, to prevent leakage and improve the stability and drinking experience of on-the-go beverages. The design, using 25% less material, was a winner of one of the 2022 World Star Packaging Awards in the category of Packaging Materials and Components. PW