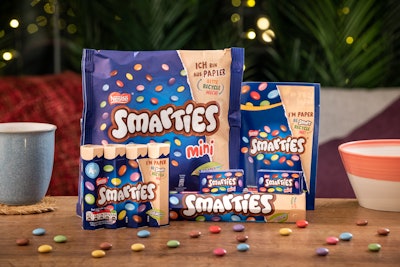 Anne Marie Mohan reported in April 2021 that the plastic to paper transition of Smarties brand chocolate candies required extensive R&D in new materials, new package designs, equipment compatibility, and recycling potential for Nestlé.
Two years in the making—from concept to launch— Nestlé's introduction in June 2020 of its Smarties chocolate candies in fully recyclable paper packaging represents a world first for a global confectionery brand, the Swiss-based company claims. The project, which saw packaging for 419 SKUs of the popular sugar-coated chocolate candy moved from plastic to paper, involved greater complexity than even Nestlé anticipated when it first embarked on the journey.
Challenges included developing a paper substrate that could provide the same functionality as plastic, while still being 100% recyclable and able to run at high speeds on the company's existing packaging equipment. Nestlé also had to reimagine many of its iconic packaging designs—which could not be reproduced with paper—with new structures capable of conveying the same joy and fun for which the brand is known.
The project used as its starting point the work done on a fully recyclable paper wrapper developed at Nestle's R&D Centre for Confectionery in York, U.K., in collaboration with the Institute of Packaging Sciences in Lausanne, Switzerland, for Nestlé's new YES! fruit and nut bar. The YES! bar packaging was the first such structure to be able to run at 300 packs/min on a cold-seal flow-wrap machine.