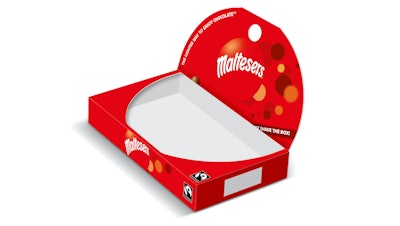 In the most unique analogy to date, Mars Wrigley UK shares that its switch from black polyethylene liner for its Maltesers chocolate box to a dispersion-coated barrier board will reduce its use of plastic by the equivalent of 18 Tyrannosaurus Rexes—that's 82 metric tons for those not versed on the average weight of dinosaurs. The change is part of the U.K. company's efforts to make 100% of its packaging reusable, recyclable, or compostable by 2025.
Since it was introduced in the 1930s, the Maltesers chocolate-covered malted milk treat was packed in a multilayer carton with a black PE liner on the inside of the box. While the liner prevented fats and oils from seeping into the outer paperboard packaging, it also made the carton non-recyclable.
Eliminating the plastic, Mars is now using a water-based barrier coating that is said to provide "significant environmental advantages over traditional plastic-lined packaging." That's according to Matthew Terry, Technical Service Director South and West Europe, for Metsä Board, which supplies the redesigned packaging.
---
---
The new carton, which launched on U.K. shelves in August 2021, is made from 16.3-pt MetsäBoard Prime FBB EB (fully-coated folding boxboard), litho-printed in five colors with low-migration, conventional inks, plus a water-based coating. Inside the carton, Metsä applies the dispersion coating, which provides a barrier against grease and moisture. Says Terry, "The way we achieve the barrier properties is confidential, but the results are tested and proven according to industry-standard test methods as well as in real life cases such as this."
Says Mars, "The removal of PE from all Maltesers boxes in the U.K. means that the box itself is now fully recyclable and, without using any additional paper pulp, around 930 tonnes of cardboard per year can now be fully recycled in Britain."
The switch follows on the heels of other packaging initiatives by the confectionery group, including its launch in April 2021 of narrower sharing pouches of some of its popular candies, including M&M's, Galaxy Counters, Galaxy Minstrels, Revels, Maltesers Buttons, Skittles, and Starburst. According to the company, the change to skinnier packs reduces the plastic used by 51 metric tons, or around 647,000 sq m per year (equivalent weight in dinosaurs not provided).