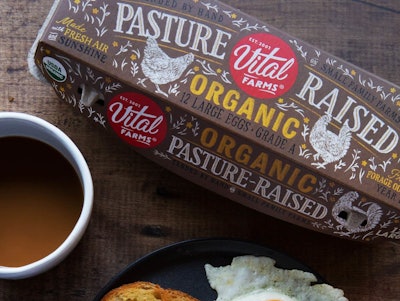 Sustainably speaking, egg cartons have come a long way since the days of expanded polystyrene. And, with a new design from Denmark-based Hartmann Technology for Vital Farms' 12-ct, pasture-raised shell eggs, they've come even further. Building off a design that was already an eco-friendly and aesthetic step above the molded pulp carton, the new egg packaging combines a molded-pulp base with a carbon-neutral, recycled-content SBS (Solid Bleached Sulfate) lid that is 100% recyclable and provides exceptional shelf presence.
Before the redesign, Vital Farms was using Hartmann's recyclable Hybrid egg package. The stock carton has a traditional molded-fiber base made from 100% recycled paper and a lid made from SBB (Solid Bleached Board), a virgin fiber paperboard that is 100% recyclable, compostable, and biodegradable.
"However, they [Vital Farms] now wanted to raise their stake in the ethical market," says Hartmann. "So in August 2019, we set to work to produce a customized carton made from 100% recycled material."
---
---
Shares Vital Farms Senior Brand Manager Heather Fitzpatrick, "We're always seeking ways to raise the standards in anything we're doing, while prioritizing the needs of our valued stakeholders. Our decision to update our Hybrid carton was a natural next step of our continuous efforts to prioritize the environment as a stakeholder and raise the standards for ourselves and the category."
The new carton took 14 months to engineer. "We wanted to ensure we were thoughtfully hitting all the requirements from the key stakeholders of the project and doing it the right way, not just the quickest way," says Fitzpatrick. "We collaborated with Hartmann on research and development and then had significant testing to ensure the carton met everyone's needs throughout the entire supply chain, including our Egg Central Station crewmembers who help pack cartons, our retail and grocery customers, and consumers. Several quality tests were crucial to ensure the new lid material did not compromise the carton functionality and protection. One of the biggest challenges was integrating the darker colors of the CRB [coated recycled board] fibers to ensure the brand colors were not compromised."
The new, custom Hybrid carton uses the same recycled-content molded-pulp base but the lid is now made from 100% recycled paper and is Greenchoice 100™ certified, which means it's carbon-neutral, as the CO2 emitted during its production is offset by new tree plantings, paid for by Vital Farms. Shares Fitzpatrick, the new lid is expected to save 33,000 trees in 2021.
As mentioned, the lid also offers greater billboard space, with a larger front flap, decorated with handcrafted, chalkboard-style graphics, offset-printed in four colors. Adding a whimsical touch, one of the tabs of the carton base pokes through an area on the lid where there is an illustration of a hen, providing the bird with a 3D wing.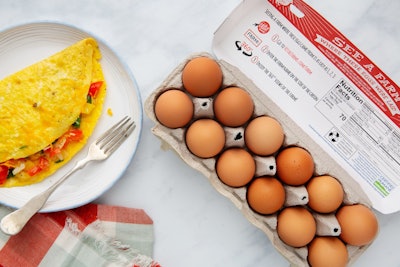 This quirkiness matches another feature of Vital Farms' packaging that has been a staple of the shell-egg carton since 2010: The Vital Times newsletter. During packaging, a tiny newsletter is inserted into every carton. Each issue includes a number of entertaining and educational stories and imagery. For example, "National Edition, Vol 13, Issue 1" contains "5 Cluckin' Great Tips From the Girls on the Grass, Blast Those Winter Blahs," information on "Naturally Hygge Hens," and a picture of the "Bird of the Month," Mellow Macy.
"We believe The Vital Times is a meaningful way to educate consumers about animal welfare and also spark some joy—with the hen cartoons and much anticipated 'bird of the month'—before they cook their eggs," says Fitzpatrick. "We know dozens of fans who enjoy collecting every issue or save them on the refrigerator."
Another way the company educates its consumers is through its Transparency Initiative, launched in January 2020. Through this program, Vital Farms prints on every carton a code that consumers can use to go online to its website and view 360-deg video footage of the farm where the eggs in that specific carton were laid.
"We want everyone to enjoy seeing hens doing what they do best—roaming the pasture, foraging for insects, sampling seasonal grasses, and maybe relaxing in the shade," says Becca Simmonds, Associate Brand Manager and Traceability Project Lead for Vital Farms. "Each partner farm is unique, but they all offer abundant outdoor space that meets our leading standards for the hens, all year round."
---
---
According to the company, the 360-deg pasture videos will be updated at least twice a year to ensure consumers get an accurate view of the hens' environment.
Says Fitzpatrick, the Traceability Initiative feature is now the most visited area on the company's website. She adds, "We've heard many stories from our community who love using our traceability program to teach their kids about the food system."
This loyal community has also provided an "overwhelmingly positive" response to the new carton, as well. Shares Fitzpatrick, "We've received numerous comments and feedback from consumers that they appreciate our carbon-neutral packaging and Vital Farms' continuous efforts to raise the standards of our packaging."
The custom Hybrid package was rolled out by Vital Farms in October 2020 and is being used for three of its 12-ct shell eggs varieties: Pasture Raised, Organic Pasture Raised, and Non-GMO Pasture Raised.
---
PACK EXPO Las Vegas and Healthcare Packaging EXPO (Sept. 27-29, Las Vegas Convention Center) will reunite the packaging and processing community. With over 1400 exhibitors, no other event in 2021 will bring together a more comprehensive gathering of suppliers offering new products, technologies, and solutions. Attendee registration is now open.
Companies in this article