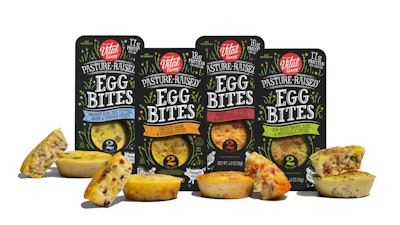 Prior to the pandemic, a new breakfast trend had been sweeping the U.S. Popularized by major café chains in quick service or foodservice settings, sous vide-cooked egg bites containing classic but elevated ingredient pairings were quickly becoming a breakfast staple for busy café patrons on their way into the office in the morning. The pandemic temporarily disrupted the foodservice category, but the secret was out about sous vide egg bites—the market had been created, the demand had been nurtured, and Americans needed it filled.
Meanwhile, keenly watching this foodservice trend unfold was Vital Farms, a Certified B Corporation that offers a range of pasture-raised foods nationwide. The company was founded in 2007 by husband-and-wife Matt and Catherine O'Hayer with 20 Rhode Island Red hens, a 27-acre plot of pasture in Austin, Texas, and an unwavering commitment to animal welfare. The pair aspired to produce ethical food and a sustainable business. Instead, they built a transformational one. Today, Vital Farms partners with over 200 small family farmers to produce egg and dairy products. Every hen is humanely treated, and every egg is pasture-raised. Vital Farms continues to elevate its (and the industry's) standards, continuing Matt's commitment to a philosophy called Conscious Capitalism, founded in the belief that the free market can and should do good.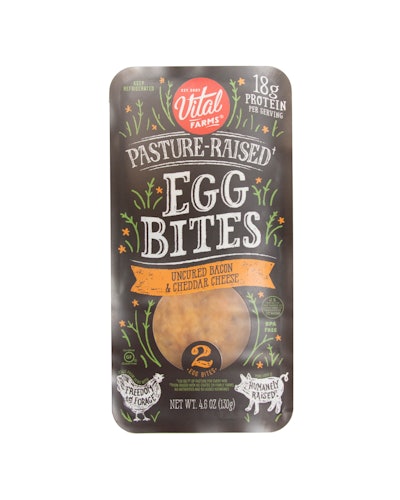 By volume, the company is now the number one pasture-raised egg brand in the U.S. and the number two egg brand overall. Vital Farms initially made its name as a shell-egg company—selling whole, premium pasture-raised shell eggs in traditional 12- to 18-egg cartons. A few years after its founding, Vital Farms broadened its brand, building on its success as a trusted pasture-raised egg brand, and expanded to new categories.
"We now have several products that are extensions of our shell egg business, including hardboiled eggs, liquid eggs and our newer convenient breakfast products Egg Bites and Breakfast Bars," says Jermaine Harvey, Director of Contract Manufacturing, Vital Farms. "Like our shell egg business, we partner with small family farms on the dairy side to produce our butter and ghee products from pasture-raised cows. The pasture-raised cows receive the same care and humane treatment as the hens that produce our shell eggs. We will never compromise the ethical standards we have practiced since day one."
By now, you can see where this is headed. Since the sous vide egg bite category was essentially a new one, a yolk-colored gold rush to meet consumer demand was on in recent pre-pandemic years. Vital Farms was early to throw its hat into the egg-bite ring, based on the belief that it had a secret weapon in the category—a higher quality egg bite made with the ethically sourced ingredients for which Vital Farms is known.
Not to mention, while foodservice hatched the egg bite trend, an opportunity to crack the retail space was there for the taking. Vital Farms already had deep connections with like-minded retailers, including Whole Foods Market. From that confluence of trends and events, Vital Farms' Pasture-Raised Egg Bites were born.
Says the company website, "We took our pasture-raised eggs (that you know and love!), combined them with pasture-raised cheese, humanely raised meats, and veggies to create a protein-packed breakfast. Now you can eat like a morning person without waking up like one."
Every pack comes with two Egg Bites, has 16 to 18 g of protein per serving, and is ready to eat after just 45 seconds in the microwave. Available in four flavor combinations—uncured bacon and cheddar; uncured ham, bell pepper, onion, and cheddar; roasted red pepper and mozzarella; and sun-dried tomato, basil, and mozzarella—these single-serve refrigerated egg bites are certified gluten-free and packaged in microwavable, recyclable, BPA-free packaging, the company says.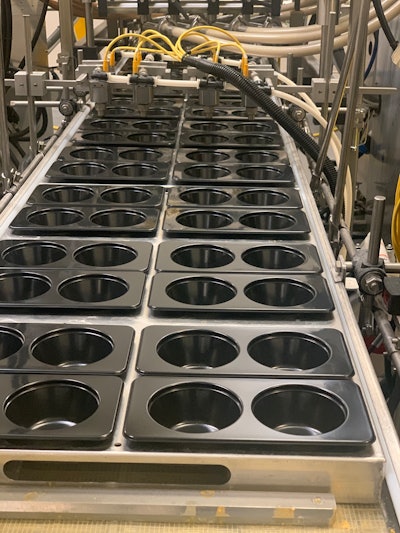 Out-of-the-shell thinking
The café-popularized blueprint for egg bites uses a cooking technique called sous vide. Using this method, the raw ingredients are vacuum sealed together in a thin film, then suspended in a liquid solution that's kept at a precisely controlled temperature as the product cooks. This means vacuum packing and sous vide processing of the egg bites would occur first. Then, the cooked product would be cooled, the film removed, and the bites flash frozen in ensuing steps. Only after freezing would the finished bites be packaged and refrigerated for grab-and-go using gas-flush MAP (modified atmosphere packaging).
But in a bid to create some market differentiation—this was the wild west of egg bites, after all—Vital Farms' sales and marketing teams had a "wild idea" (according to Harvey) to create a baked product that looked more homestyle with toasted notes, while consolidating the processing and packaging steps by baking in-pack rather than processing, then packaging. And since they'd be baking in the pack at the production facility, couldn't the pack also withstand a microwave in the consumer's home? And finally, could in-pack baking, instead of sous vide, provide yet another point of differentiation by imparting a hint of crisped, browned crust to the egg tops via dry heat cooking using a tunnel oven?
Revisiting packaging materials to enable a better process
At the suggestion of Jeff Greenberg of contract manufacturer and contract packager The Kitchen Coop of Broomfield, Colorado, the Vital Farms enlisted Greg Levy Levy, President of
Point Five Packaging
,
to help develop a food-grade CPET MAP packaging solution. What resulted is, as far as we know, novel in the market. As a material, CPET is known for a crystalline structure that allows it to hold up well in high-temperature environments. But CPET can be temperamental to the uninitiated and requires precision in how much heat it can withstand, and for how long. Plus, its use in conjunction with this new egg bite application was uncharted territory. Levy went about charting that new territory.
"We work a lot with modified atmosphere systems, and CPET is a really nice functional alternative to polypropylene for the microwave because it's got a nice barrier property to it so you can gas flush products inside of it. And then you've also got the microwavable capability and then also the ovenable capability. We like CPET a lot, and we do a lot of custom shapes, colors, sizes with CPET in addition to this application. But this is a perfect example of us using what we call our concept-to-market process. This is where we sit with customers and we develop a solution, or they tell us what they want to do, and then we come up with the full packaging solution around their idea.
"Obviously we wanted to keep the amount of material used to a minimum to avoid over-packaging. And then I think the next leg of it was in asking ourselves, 'What does Point Five bring to the table? What are our capabilities?' And this kind of problem-solving is our sweet spot."
After rigorous testing of the MAP process itself, testing the shelf life of an in-pack-baked product sealed into MAP, and a lot of container gauge and shape trial and error, the partnership of Point Five and Vital Farms hit upon a repeatable solution.
"I think that's why other people haven't used this kind of process in the past," Levy concludes. "Since we were actually putting these trays through an oven, the design and the gauge of the container itself were critical. It required a lot of work to get it right."
While CPET can withstand heat better than most plastics, all plastic is prone to some deformation at high temperatures. Levy sought additional protection from deformation via a robust container, but in a way that avoided overpackaging with too much material. That was one major needle to thread.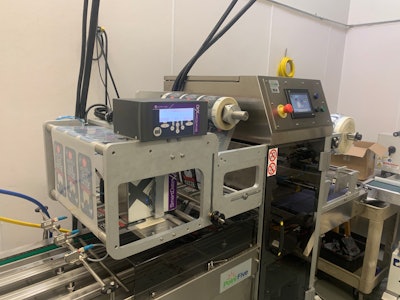 Ensuring snug seals
The other big wild card that needed to be accounted for was the seal between the CPET tray and the lidding that would be added during the MAP process. Keep in mind, the seal flange would be a surface that had just gone through the baking process with a splash-prone liquid egg product in close proximity. The very baking process itself—whether high heat or product in the seal path—could negatively impact the seal.
"In this case, R&D was probing these trays to the point where we arrived at a design where we can deposit and bake without deforming the tray and without disrupting the seal surface so it could still perform with good shelf life," Levy says. "In a lot of cases, when a brand runs into obstacles like these, they shoot down the project and go another direction. But we kept on it until we had it."
"This package design that resulted is also microwave safe at home. It allows people to cook Vital Farms Pasture-Raised Egg Bites in the package they come in, versus having to pop them out of their package and heat them in a separate dish in the microwave," Harvey adds.
The lidding material is a polyethylene-based multilayer structure with an EVOH barrier. The lidding is flexographically printed in four colors and uses a transparent window to display the egg bite within. Harvey says that the quality of the ingredients used in all four flavor varieties of Vital Farms' Egg Bites as well as the hint of crust from being baked instead of sous vide are differentiators among the competitive set that consumers can taste.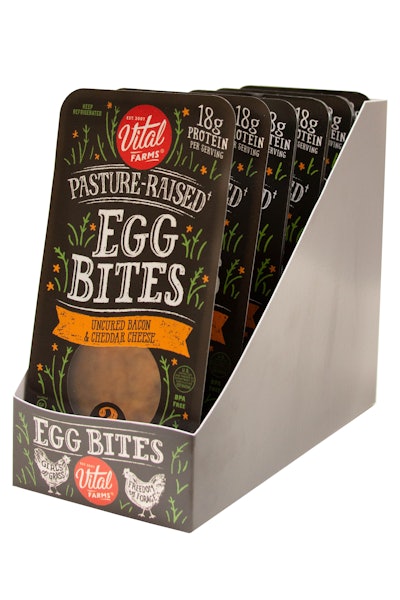 RRP improves marketability
Since it was important to make the product itself visible, even on the shelf or in the cooler case, the company opted for retail-ready packaging (RRP) that would present the product through the transparent window. Secondary packaging for the CPET MAP packs entails six-count RRP-format printed chipboard display cartons that Levy calls caddies. Two chipboard caddies are then loaded into corrugated cases for 12-ct master case to be sent to retailers.
"The caddies lift out of the case and sit on shelf in a vertically facing posture with the printed lid facing outward toward retail consumers," Levy says. "That was another critical design element we had to consider in this project—making sure it had a strong shelf presence."
Top-of-market shelf life
For a fresh protein product, shelf life could be a concern. But with the MAP and nitrogen/carbon dioxide flush, these Vital Farms Egg Bites packs boast nearly three months of shelf life, leading the category. The MAP process consistently achieves less 1% of residual oxygen, with figures closer to 0.5% to 0.7% residual oxygen most common when tested.
"We believe we are producing egg bites differently," concludes Harvey. "The typical process is to deposit the egg bite in a totally separate depositing unit, where it is processed, then frozen, then is bulk packed as a frozen bite. And then it's repackaged and shipped refrigerated to go into the market. But with our method, ours stays fresh even though it's never frozen." - PW
Companies in this article
Videos from Point Five Packaging, LLC