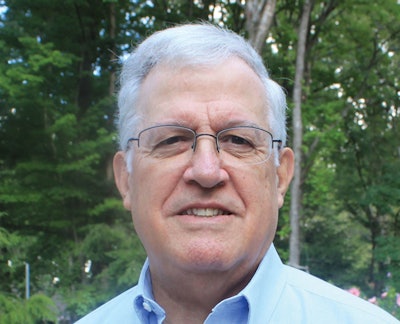 That is the bold, aspirational vision of the Paper Bottle Co. (Paboco). But is it realistic? Are packages made of "materials that can be recycled or returned to nature without harm" part of what management consultant McKinsey & Co. calls the "next normal"? If there's an "after next normal" we'll probably have to wait till then, in our view.
Paboco is a joint venture started in 2019 by Swedish paper packaging material developer BillerudKorsnäs and Austrian plastic bottle blow molder, Alpla Group. The JV is expanding beverage bottling reality by offering 330mL and 500mL molded fiber bottles with recycled PET (rPET), polyethylene furanoate (PEF) or polyethylene naphthalate (PEN) barrier film coatings. Carlsberg, the Danish brewer, and Coca-Cola have expressed enough interest in the development to test Paboco's concept.
Riding a crest of popularity, the sustainability of paper—already the most widely used packaging materials— has it inching its way from boxes and cartons into prototypical non-angular bottles, a format dominated to date by glass and plastic.
Propelled by growing e-commerce sales, marketplace regulations, technological advances in materials and machinery, consumer preferences, and environmental concerns—particularly those targeting plastics—paper is approaching the brink of making some market-transforming changes in the packaging landscape. Collaborative efforts are fueling many of the changes.
---
PACK EXPO Las Vegas and Healthcare Packaging EXPO (Sept. 27-29, Las Vegas Convention Center) will reunite the packaging and processing community. With over 1400 exhibitors, no other event in 2021 will bring together a more comprehensive gathering of suppliers offering new products, technologies and solutions. Attendee registration is now open.
---
Some examples: Unilever is developing what it's calling "the first ever paper-based laundry detergent bottle," a sustainably sourced and recyclable molded paper pulp container for a liquid laundry detergent set to launch in Brazil early next year and subsequently roll-out in Europe. Also in the Unilever labs: molded fiber haircare bottles. The technology behind Unilever's molded fiber bottles is the result of a partnership between Unilever and the Pulpex consortium, itself a collaboration among alcoholic beverage producer Diageo, PepsiCo, technology development consultancy Pilot Lite, renewable paper packaging developer Stora Enso, and chemical company BASF.
Kentucky confectioner Perfetti Van Melle will begin marketing its Mentos gum in paperboard canisters rather than plastic ones later this year. This is one of several plastic-to-paper packaging conversions in the confectionery industry taking place in the name of sustainability. Van Melle claims it is the first global confectioner to pack gum in what it calls a paperboard "bottle." The 90% paperboard canister was developed in conjunction with AR Packaging Systems AB.
Confectionery giants Mars Wrigley and Nestlé and have already started moving from plastic to paper wraps. Other candy collaborations, such as one between Ritter Sport and Syntegon, are opting for paper wraps over plastic ones as well.
Even though paper's unsupported barrier properties are the lowest of packaging material options, packagers choose it because it is a favorite of many of their customers in Western markets. From a sustainability standpoint, paper is made from a renewable source, easily recycled, and can be barrier enhanced with all other packaging material choices—plastic, metal, and glass.
Unsurprisingly, an April 2021 McKinsey & Co. study of approximately 10,000 consumers in 10 countries found that American and European consumers rank paper "quite high" for sustainability. The attitudes behind the rankings are prompting packagers in the U.S. and Europe to seek paper alternatives for plastic straws, bags, fruit trays, and shrink wraps for drink bottles and cans. On the other hand, notes McKinsey, the high sustainability scores for paper and glass are not universal. Brazil, China, and Indonesia rank the sustainability of both paper and glass packaging below "plastic films made from renewable, compostable raw materials." McKinsey's researchers found flexible packaging combining plastic, paper, and aluminum foil "ranks lowest from a consumer perspective across all surveyed countries." That's a common consumer misperception that aseptic cartons—paper/foil/polymer structures—have been fighting for years.
Paboco hopes to "spark a movement and change this industry for good" by providing materials and technology at scale for sustainable and beautiful paper bottle packaging." And we applaud their ambitions. But, its vision of a marketplace in which all plastic packaging—and eventually all glass bottles and metal cans—have disappeared is not only bold and aspirational but—to our way of thinking—not commercially realizable in the near-term future.
---
Ben Miyares, Packaging Sherpa, is a packaging market and technology analyst and is president of The Packaging Management Institute, Inc. He can be reached at bmiyares@packmgmt.org.
Companies in this article