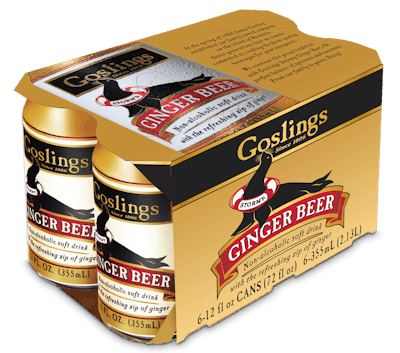 Polar Beverages Inc. can trace its history to an 1882-founded spring water company that was soon after purchased by a distiller named Dennis Crowley to enhance his existing whiskey business. Prohibition in the 1920s pushed the company to expand its beverage range to focus on soft drinks, setting it on the beverage path it still travels today. Since its inception, the company has been under continuous ownership and operation by four generations of the Crowley family in the heart of New England. Based in Worcester, Mass., Polar Beverages now also produces, packages, and distributes from Albany, N.Y., and Fitzgerald, Ga.
As consumer tastes have evolved—especially lately, with the recent ascendency of seltzer-based alcoholic beverages and RTD spirits in cans—so has Polar Beverages' ability to innovate and meet the growing demand for sparkling refreshment. The company's own-brand SKUs range from heritage recipes, such as Polar Orange Dry and Birch Beer, to the more recent introduction of modern seasonal Polar Seltzers, as well as Adirondack, Clear & Sparkling, O Water, and Frannie's. A 2020 franchise agreement with Keurig Dr Pepper has been a shot in the arm for the Polar brand of seltzers, as it now enjoys national distribution.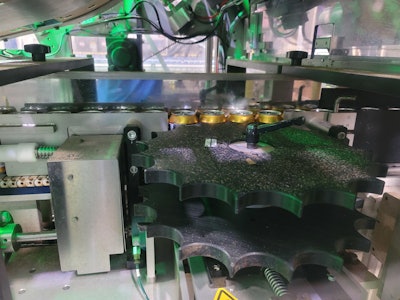 But Polar Beverages didn't grow to be the largest independent bottling company in the U.S. solely on the back of its own family of brands. It has a strong contract packaging/contract manufacturing (CP/CM) business that accounts for more than half of its revenue, with brand partnerships for bottling, private-label manufacturing, and distribution for regional, national, and store brands. As a co-packer, Polar has to offer a lot of different packaging formats. Still, primary packaging for most seltzers and soft drinks comprises traditional 12-oz, 202-lidded, printed cans, filled on traditional filling and seaming equipment. Following recent trends, there has been some movement into 12-oz sleek cans or smaller-profile 8-oz cans, but the volume remains in the stalwart printed 12-oz, 202 can.
When it comes to secondary packaging and multipacks, though, the gusseted wraparound paperboard carton multipack format has been growing fast, and Polar has had to invest in equipment to automate this style of pack. The Fitzgerald location became the first facility in the U.S. to commission and run a Graphic Packaging International (GPI) Marksman™750HS wraparound cartoner two years ago, and at the time of this writing, Polar is in the process of installing a second machine in Worcester.
---
---
Why the paperboard push?
The traditional polyethylene "six-pack ring" can-handle format, a holdover from the 1960s, suffered a black eye in consumer perception in recent years as a result of sad images of sea creatures tangled in improperly disposed-of plastic can handles. One new multipack direction favorited by craft brew has been toward high-end high-density polyethylene can-handle carriers. These clasp cans by the seam or neck so there is no mechanism by which they could ensnare wildlife. Still, these are comparatively expensive and remain subject to negative consumer perceptions around ocean plastics, no matter how recyclable PE or HDPE may be.
The other direction that many beverages and other CPGs are turning toward is paperboard cartons, a material that consumers more universally perceive as recycle-ready. In some cases, the paperboard itself may already contain or be made entirely from post-consumer material, a more difficult claim for plastics to make in a time when feedstock for post-consumer recycled (PCR) plastic is hard to come by.
But sustainability isn't the only factor. The format offers more billboard space than do HDPE can handles and provides the ability to print high-quality graphics around a four- or six-pack of cans, desirable traits on the crowded beverage cooler shelf.
"With an open, wraparound carton-style multipack, you can do a lot with graphics," says Matthew Cox, Polar's Asst. Director of Operations at Polar's Worcester headquarters. "You don't necessarily have the expense of a fully enclosed carton, and with wraparound, consumers can still see the cans. But we still can do a lot with graphics on each pack, so a brand can tell its story. It's more pleasing to the eye for the consumer versus just looking at the plastic ring-based [can-handle] package."
Beyond these consumer-level drivers, there also appears to be retail preference at play in the move to paperboard. Without naming names, Cox told Packaging World that large, familiar retailers grapple with the fact that it's just too easy for a shopper to accidentally pry loose a single can from a six pack in a retail setting, when it's packed in a traditional can handle. The consumer who had hoped to grab a six-can multipack is left with a single can in his or her hand, a partially opened five-pack still on the shelf, and an awkward experience all around. Recently, this dynamic has been made worse by the retailers themselves as they restrict and minimize headspace above product on shelves in a push to pack more variety and more product into the aisle. Where consumers in years past may have been able to clasp multiple cans of a six pack from above the multipack, today the single-can grab from the side might be the only option. To the retailer, a broken or separated multipack constitutes repacking, forces in-store loose can sales, or in the worst case, causes scrap. Retailers don't seem to encounter those problems with semi-enclosed or wraparound paperboard, according to Cox.
With these factors in mind, Polar's Fitzgerald facility was the first in the U.S. to use GPI's Marksman 750HS and to automate wraparound multipack cartons for its beverage brand customers. The current Worcester installation is one of the first handful in the U.S.
One Polar customer taking advantage of this capability is Goslings Ginger Beer, a Bermuda-based rum and ginger ale mixer brand that has emerged atop the soaring ginger beer category. Ginger beer has been flung back into prominence of late by the popular emergence of cocktails like the Moscow Mule and the re-emergence of nostalgic classics like the Dark and Stormy.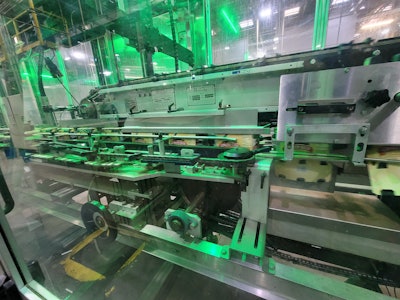 "Being from the island of Bermuda, we are cognizant of the dangers the plastic rings [can handles] can pose to marine life if they are carelessly discarded," says E. Malcolm Gosling, President & CEO, Goslings International Ltd. "As Goslings Stormy Ginger Beer grew to be the largest selling ginger beer in the U.S., so did our use of plastic rings. We were grateful for Polar's willingness to install the machinery to enable us to move to a paperboard wrap. We know how ecologically minded our loyal consumers are, and we wanted them to know it is important to us also. The consumer reaction has been extremely positive.
"In addition to being a more sustainable package, it is also an opportunity to create impactful graphics and have a greater presence on the shelf."
Automating paperboard multipacks
It bears repeating that as a co-packer, Polar still does a lot with more traditional can handles, so the new Marksman 750HS installations don't fully replace or obviate can-handle applicators. The new cartoners are integrated to sit side-by-side with the traditional can-handle applicators—in the Fitzgerald facility, options also include tray packers with shrink multipacks, or GPI's fully enclosed cartoners—on existing packaging lines. It's a new capability and a new offering, not an elimination of existing capabilities. When changing over from a soft drink that uses a traditional can handle to, say, Goslings Ginger Beer, it's simply a matter of diverting the filled can flow toward the wraparound cartoner instead of a can-handle applicator, then back to the shared, existing secondary packaging automation downstream on the line. Line speeds for the two formats are roughly the same, with the GPI machine going a touch faster. The Marksman 750HS is able to run at speeds to 300 packs/min, but a fast run at Polar is more like 250 packs/min, and a more typical cruising speed is 200 packs/min.
Filled and seamed cans are fed into the Marksman system in two parallel lanes, soon to be unitized into two parallel groups of three for a 2x3 six-pack format. These are first met with a rotary star wheel that calibrates the speed and pressure of the can flow. The machine could run other formats, like a 2x2 four-pack, if Polar were to keep a few requisite changeparts and cartons on hand. It has no current need for such parts, but it would be easy enough to do if a customer requested the format. Each of the two parallel infeed lines enter the secondary packaging cell by way of a star wheel.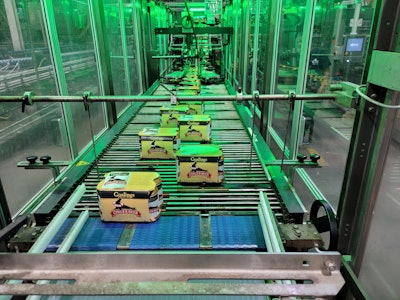 "The star wheel itself doesn't create space between cans, but it helps the feedscrew immediately downstream pull a gap between cans without too much force, without shoving the cans through the feedscrew," says Jesse Fletcher, Assistant Plant Manager at Polar's Fitzgerald, Ga., location, the site of the first Marksman installation.
Meanwhile, overhead, a magazine of un-erected, flat paperboard cartons feeds individual carton blanks over the top of the two parallel can lines using overhead chains with lugs to properly index each carton at a speed to match the cans. Married to its designated 2x3 can format beneath it, each carton is then met with a stationary plow that folds down the flat, 2D cartons and wraps them around the cans into a 3D caddy. Another chain-based plow wraps and connects the carton underneath the six pack to fully enclose the cans.
During this carton-wrapping step on the Polar installation, gussets are folded into the front four and back four open corners of the pack via a parallel mechanical chain. On the leading side of the six pack, integral gussets built into the paperboard are folded backward into the two leading cans contained within. And on the trailing side of the pack, gussets are folded forward into the back side of two trailing cans, mechanically locking the six cans within without any glue. This gusseting feature is an option that may not be necessary in other formats that these machines offer, say a 1x3-, 16-oz can format with top or bottom can-locking mechanisms.
"The glue-less locking mechanism was pretty cool for us. First, you don't have that glue that you're adding to it, and you don't have to clean up glue buildup, or replace glue nozzles," Cox says.
---
PACK EXPO Las Vegas and Healthcare Packaging EXPO (Sept. 27-29, Las Vegas Convention Center) will reunite the packaging and processing community. With over 1400 exhibitors, no other event in 2021 will bring together a more comprehensive gathering of suppliers offering new products, technologies and solutions. Attendee registration is now open.
---
Adds Fletcher, "I don't see a downtime difference since we don't have much trouble with our glue in general. But the locking is nice because you don't have to purchase glue, and you don't have to deal with it at all, so there's savings there."
Notably, the carton blanks are scored and slitted in such a way as to provide end consumers an easy-tear top to release the cans once they're safely in the home. Blanks arrive at Polar die-cut and printed, so the slits are added by converter GPI. The coding and marking step is accomplished by a Videojet inkjet coder on each six-pack within the Marksman machine.
Fully locked and marked multipacks exit the cartoner on an integrated turner/divider, which, as the name implies, turns the six packs to a wider profile with three cans leading and three cans trailing in each multipack. Despite the throughput remaining unchanged, turning to lead with three cans—a wider, shallower format—has a slowing effect on the product progression as it moves toward the end of the line. The divider then creates two lanes from one, further halving the line speed without changing the throughput.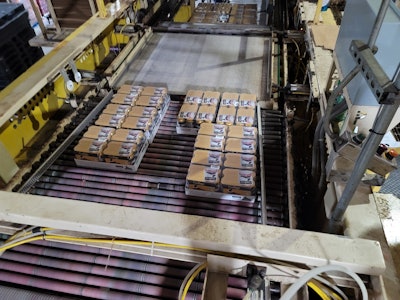 Following cartoning, the six-pack multipacks travel in two parallel lanes to a KHS Kisters tray erector, tray packer, and shrink wrapper, where they are again coded/marked and bundled into four multipacks, or 24 cans in each tray. Instead of (or in addition to) coding and marking on the corrugated trays, the Polar line is also able to automatically slap a print-and-apply label onto each shrink-wrapped 24-pack bundle for improved readability in logistics and warehousing. A conventional mechanical palletizer from Production Automation Inc. (PAI) caps off the line.
Smart tablet simplifies maintenance, changeovers
The Marksman 750HS is also equipped with a documentation system that GPI calls its IQ tablet. The tablet that includes the technical manual, 3D print viewer, and dynamic changeover checklist with video guidance to provide personnel with the technical tools to efficiently and reliably changeover the machine and address machine needs.
"We have not yet started up the Marksman in Worcester however we have the same tablet on our GPI QF2100 and the operators find it very useful for changeovers and the maintenance mechanics like it as well," says Cox. "It contains drawings of the entire machine where they can zoom in to see exploded views and get part numbers. We've found it to be very useful."
Second installation
The success of the Marksman 750HS installation in Fitzgerald made the decision to buy another machine for Worcester an easy one for the folks at Polar. This increased wraparound corrugated capacity in the Northeast, Cox says, is soon to be filled by both new and existing customers looking to make that shift from traditional can handles to wraparound paperboard cartons.
As a bonus, Polar's new Northeastern carton capacity also will benefit existing customers that already are using wraparound cases. Consider Goslings, a wrapround carton automation pioneer. Since Fitzgerald housed the only Marksman 750HS in the U.S., all the Goslings supplied to the U.S. had to be funneled through one location in the Southeast corner of the country. Having a second packaging location in the Northeast opens new freight lanes and adds a lot of potential logistics efficiency.
"If we didn't think it was a good product, we wouldn't have bought another one," Fletcher says of the machine.
It certainly doesn't hurt that Polar's customers' customers—the retailers—are happy with the new pack format. Cox says the feedback that he's received from retailers has been a big driver in doubling down on this equipment. And the results, at least as reported by Gosling, are that sales have improved due to the new packaging format. That makes for an unbroken chain of success, from OEM and converter GPI, to co-packer Polar, to the brand Goslings, to the retailers, and finally to consumers, who are consuming more Goslings.
"The wrap also offers the cans added protection, and we do not see the 'breakage' factor we experienced with the rings," founder Gosling concludes. "The paperboard wraps are more expensive than the plastic rings [can handles], but the ecological, marketing, and consumer benefits are worth the added investment." -PW
Companies in this article
Videos from Graphic Packaging Intl.