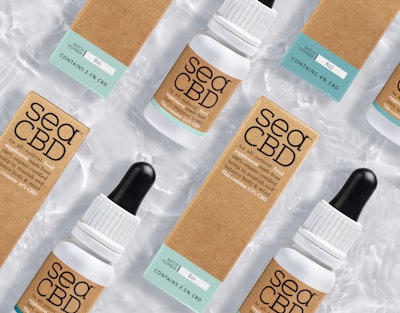 All-new food supplement start-up Sea CBD of London has unveiled its brand identity. Inspired by the calming and invigorating qualities of the sea, the package design is a fresh direction for the fast-growing cannabidiol oil market in the U.K.
Sea CBD Founders Claire Griffiths and Jack Jackson met while working in yacht industry, thus their Sea CBD brand is imbued with the spirit of the ocean. It was Griffiths' discovery of natural remedies that first set them on the journey. "The main remedy that had a significant impact on my general wellbeing was CBD oil," Griffiths says. "It genuinely changed my life, and we want to share it with other people. There are many people who could benefit from CBD oil but are put off by brands that are either functional without clear claims, or alternatively filled with clichéd images like marijuana leaves."
In bringing their brand to the market, Griffiths and Jackson recognized the need to get professional help on brand creation and packaging design. "Start-up brands need strong pack design to connect with consumers," says Jackson. "In a market maturing as fast as this, they also need to be able to do it quickly. We chose Echo as our partner partly because they could do everything from start to finish to bring our idea to life, and partly because they got as excited as us about our idea."
The package design for Sea CBD is bold and straightforward. From the color palette, with its earthy hues accentuating the sea-inspired blue and green tones, to the elegant yet clear and legible font, it is honest, direct and effective, Echo relates.
The on-pack copy tells readers exactly what the product does. Echo says the copy will also ensure compliance as and when regulation reaches the market. Most notably, a batch number means each bottle can be traced.
"The design echoes the dynamic equilibrium, not only of the sea, but also of the product," explains Christy Davies, Design Director at Echo. "Both relaxing and invigorating, there's a real duality to CBD oil just as there is to the ocean. The color we created is a result of hours spent researching the colors you find in icebergs and the deep ocean—we think it will really deliver category standout for this product."
Adds Griffiths, "If you look at the CBD oil market in the U.S., it's far more advanced than here, but the U.K. market is catching up. We're really excited to be able to bring our product to market so quickly, and with a look that will not only stand out, but will also show people how CBD oil can improve their lives—just as it has with ours."
Three versions of the oil are revealed available: 2.5% CBD, 4% CBD, and 10% CBD. As you go up the range, the signature sea-blue color of the packaging darkens. Sea CBD is available online initially, and these designs can be rolled out across an expanding product range.
Companies in this article