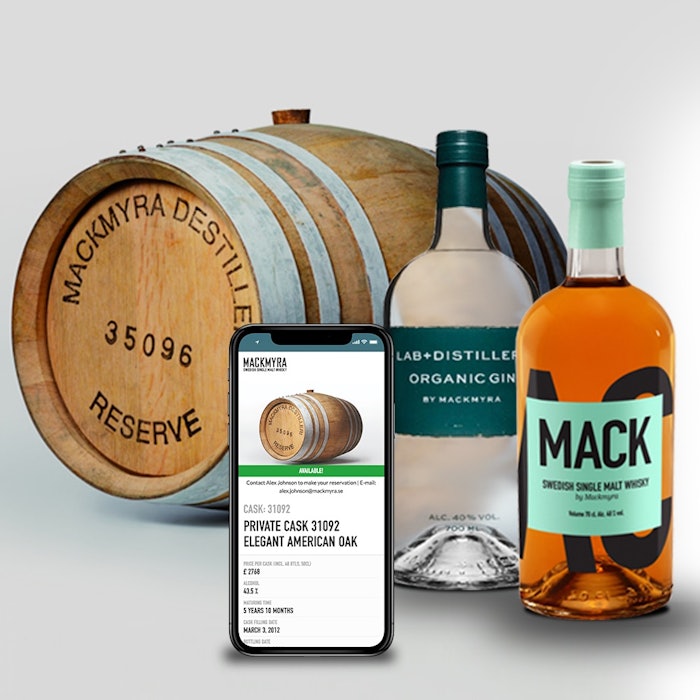 Mackmyra Swedish Whisky, an award-winning distiller of single-malt whisky based in Sweden, is using NFC mobile marketing to connect directly with consumers via smartphone, raise awareness of its Private Cask program, and launch social media-driven campaigns that promote its most popular products.
Mackmyra's initial deployment, launching this quarter, uses NFC tags from Thin Film Electronics ASA to build digital provenance information into Mackmyra's Private Cask offering, which allows consumers to create and bottle their own unique whisky. Each individual bottle originating from the Private Cask will link back to detailed information about that specific cask—all through the touch of a smartphone. Following this, a second campaign will promote a consumer-submitted drink-recipe competition featuring the distillery's flagship "MACK" whisky and its premium Lab+Distillery gin. Consumers who submit unique recipes and share through social platforms will have a chance to win various prizes.
The uniquely identifiable NFC tags to be used in the Mackmyra campaigns fully integrate with Thinfilm's CNECT™ Cloud Platform. Through a custom CNECT dashboard, Mackmyra's marketing team will be able to view real-time customer engagement activity, analyze campaign performance, and uncover actionable insights to drive business success.
"As Sweden's very first producer of single-malt whisky, the Mackmyra brand is deeply rooted in exploration and innovation," says Magnus Dandanell, Founder and CEO of Mackmyra. "We're now taking a similar approach with technology, using Thinfilm's NFC solution to connect directly with our consumer base. It's an ideal match that allows us to strengthen and extend the relationships we have with our loyal customers while moving our business forward."
Following these initial deployments, Mackmyra and Thinfilm plan to enable further physical+digital experiences on signature products during the first half of 2019, including combining NFC with other state-of-the-art digital technologies to bring customers behind the scenes of the distilling process.
Companies in this article