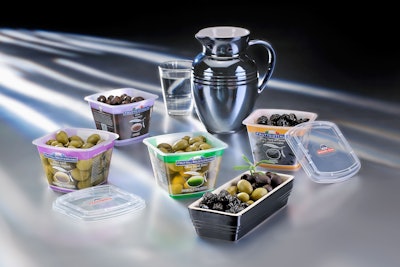 Created in 1989, Carsoli, Italy-based Madama Oliva srl is an international processor and packager of table olives.
Recently, the company selected the LongLife™ container from RPC Superfos to pack its full range of products. All 17 varieties of Madama Oliva's olives made from traditional Italian recipes are now sold in the transparent LongLife pack, with an average product weight of 250 g. RPS Superfos also supplies the PP lid, also decorated via IML.
The polypropylene container sports a different artwork design for each product, producing an attractive display on supermarket shelves in Italy thanks to their striking colors and razor-sharp in-mold labeling. Container thickness is estimated to be around 0.6 to 0.7 mm. In-mold labels can be printed in as many as eight colors.
Another benefit is that the new square package with rounded corners is similar in shape to Madama Oliva's previous containers, enabling a smooth transition on the production line. The previous containers lacked the clarity of the current version. There were also some challenges related to the labels that Madama Oliva had used to decorate the former containers.
"We value attractive packaging [that] matches the high quality of our olives," explains Manuela Tilli, Marketing Manager at Madama Oliva. "Food safety, an attractive look and long shelf life with in-mold labeling were among our core requirements for the new pack, so we got in touch with RPC Superfos to come up with a new solution. We already knew the high quality of some of the RPC Superfos packaging solutions through a local distributor."
Madama Oliva required RPS Superfos to produce samples of the new packaging in time for it to be showcased at a Cibus trade fair. From artwork approval to finished samples, the supplier met the deadline in less than a month, preparing five varieties of the pack.
"The new pack works well in our production and we are convinced that we have found the right solution together with RPC Superfos," says Tilli. "It has been a positive experience to cooperate with this packaging supplier."
Shelf life ranges from 60 days to 12 months, depending on the specific product variety and if liquids are included in the container. Prices range from EUR 3,50-3,99 in supermarkets.
Companies in this article