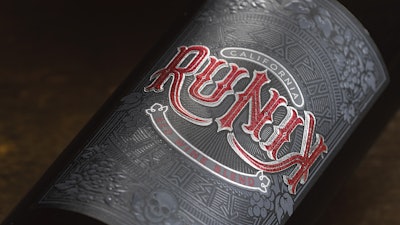 A new private-brand red wine from Aldi uses packaging graphics that conjure ancient metalwork and mystery to support its unique name, Runik. The wine, which features cherry, mocha, vanilla, and berry notes, with a touch of oak on the finish, was launched in all of Aldi's U.S. stores in August 2017.
Development of the brand and its packaging began in 2015, when Aldi tapped creative consultancy Equator for the project. Says Equator Senior Creative and Strategy Director Jennifer Gaeto, "Aldi wanted us to create something that would capture the blend of the wine and stand out on shelf. We developed the name and label design based on the target consumer"—wine drinkers looking for an easy-to-drink, robust red wine to enjoy during the week with dinner, or for a gathering with friends.
To understand the visual language of the wine category, Equator analyzed the market in great detail. "We immersed ourselves in the romance and story-building that brands have done," says Gaeto. "We knew we had to create an impactful design built around a very strong name. The name we developed, Runik, has a few meanings, one being something mysterious, and the other relating to ancient monuments or metalwork, which we wanted to build off of for our design."
The dark and mysterious label design for the 750-mL Runik bottle features hand-drawn typography at its center. "The logotype evokes a mystical quality, and the details around it speak to the feel of ancient relics," Gaeto explains.
The label is made from a matte-black linen paper blind-embossed and spot gloss-varnished to define the detailed design. The type is created with silver foil, overlaid with red ink.
Companies in this article