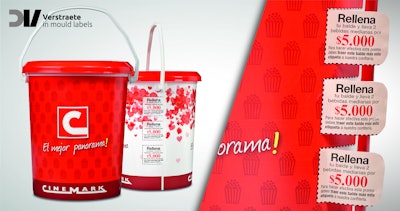 Cinema, film, popcorn: Cinemark customers can't have one without the other. With that in mind, the Chilean branch of the American Cinemas brand wanted to reward its loyal customers with a refillable popcorn bucket and a smart customer retention action. The company's brand-new IML packaging, produced by packaging manufacturer Fosko and using a Peelable IML label from Verstraete IML, sets itself apart from the pack with its sustainability and reusability.
Says Loreto Boitano, Consessions Manager at Cinemark, "Our customers believe popcorn is a major part of their cinema experience. It is an essential element of a cinema visit, and it helps them enjoy the film. A lot of our customers are frequent cinema visitors, and their loyalty deserves to be rewarded. That's where our idea of reusable popcorn packaging came from—when they next visit, our customers can simply refill their IML bucket.
"Our former popcorn packaging was made from cardboard and could not be reused after a film, so we started looking for a more sustainable packaging alternative. Our new popcorn bucket also needed to provide added value to our customers, and Fosko proposed an IML bucket with Peelable IML labels in response. It's proving to be a hit, both for our immediate sales results and for long-term customer retention."
Explains Fosko Commercial Director Nicolás Ramirez, "It didn't take much to convince Cinemark of the excellent print quality of our IML buckets. To reward customer loyalty and boost popcorn consumption, we started looking for an innovative customer retention concept. Together with Cinemark, we came up with the Peelable IML action: Thanks to the three removable discount coupons on the IML label, the buckets can be reused up to three times in the cinema. Afterwards, customers can give their buckets a new lease of life at home as storage containers.
"This innovative Peelable IML packaging allows Cinemark to kill two birds with one stone: The reward concept fosters strong customer retention. As a bonus, customers get a sustainable, reusable storage container to use at home. It's a win-win situation: Cinemark buckets in customers' homes means better brand recognition in the long term.
"The large dimensions of the label made the production process a little more complex, but with the right injection molding machine and a fine-tuned IML label, the results are excellent. We can rely on our IML partner, Verstraete IML, to provide high-quality labels, delivered on time—and they continue to innovate too. We would highly recommend Verstraete IML to anyone."
Says​ Boitano, "One of the best features of our new plastic IML packaging is that it's environmentally friendly; it complies with legislation that promotes recycling and extended producer responsibility, and it's a so-called '3R' product—100-percent reducible, reusable, and recyclable. Consumers are better informed than ever before and expect companies to act in an environmentally responsible manner, which provides a commercial advantage. The new IML packaging is hygienic too: It can be easily washed, meaning it is particularly sustainable—the buckets can be reused over and over again.
"Our huge sales and refill figures are the best response we could have wished for. Some months, customers refill more buckets than they buy, which is the best evidence that they love and value our reusable packaging and the refill concept."
Companies in this article