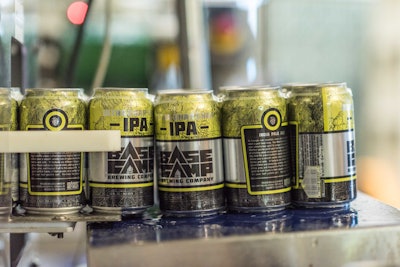 Walk down a beer aisle in Oregon, and you'll be greeted with a stunning selection of craft brews. In addition to choosing between an IPA or a lager, you'll be choosing between a variety of colorful bottles and cans with names like "Local Logger Lager," "Tricerahops," and "Sprinkles." That's because in the Pacific Northwest, where the breweries per capita is higher than anywhere else in America, brewers have to stand out if they have any hope of competing. When being "local" is no longer enough, competitive Northwestern brewers are pioneering the standards for branding and packaging craft brews.
While Northwestern markets, including the famed "Beervana" of Portland, are heavily saturated compared to most in America, they provide a valuable insight into the future of the industry. Craft brewing is on the rise in America. Research by the Brewer's Association shows a 10% growth in craft beer sales in 2016, despite 0% growth in overall beer sales. As the national market grows, the saturation seen in today's Northwest is on track to be tomorrow's national norm. Brewers and packagers looking to stay prepared can look to the Northwest's mature market for a model of what to expect.
Embodying the Northwestern image
A brewer working in an active market must take branding seriously. While established national brands build their images around the austerity of historic names like Budweiser and Guinness, independent brewers must deal with being relative unknowns. Without name recognition, Northwest brewers have taken steps to make their products jump off the shelf with unique, expressive package designs.
Ninkasi Brewing, a craft brewery based in Eugene, OR, has been operating since 2006. In that time, they expanded from a local favorite to a multi-facility brewer shipping to multiple surrounding states.
Says Creative Director Nick Yarger, "Our priorities are always to embody the core values of Ninkasi: fun, quality, and craft." Ninkasi is named for the Sumerian goddess of beer, and for the company's first decade, it appealed to customers with a variety of similarly offbeat names. Beers such as Total Domination, Dawn of the Red, and Tricerahops became their flagship brews, standing out among competitors and catching the eye of craft beer consumers.
As the market grew, however, Ninkasi felt the pinch of an increasingly diverse field. Facing their tenth anniversary, the brewery undertook a rebranding to better showcase their core values in their visual design. Prior to their rebranding, most of Ninkasi's lines featured very minimal design elements. Products such as Total Domination featured only the name and the Ninkasi logo against a black background. The rebranding aimed to bring in visuals that matched the energy of the product names.
"We wanted to reflect Ninkasi's growth and nuance in the branding and art," Yarger explains. To design their new bottles, they tapped into the Northwest's deep artistic roots. Yarger reached out to artists including Portland-based mural artist Blaine Fontana, Eugene, OR-based illustrator Santiago Uceda, and Eugene-based photographer Rob Sydor. Working with Neal Williams, Ninkasi's in-house artist, Yarger led the design of a new range of vivid packages, evocative of the Northwest's forestry and spirit.
"Sales after the rebrand were great," Yarger is happy to report, affirming an increase in sales that has justified the redesign. "The new branding created fresh excitement around our flagship lineup," he adds.
Following this success, Ninkasi has taken steps to incorporate these visuals across multiple areas of packaging. "We are always mindful to create artwork that will be flexible for different formats. Our graphics should seamlessly flow from label art, to six-pack carriers," Yarger says. On supermarket shelves, Ninkasi's artistically rendered six-packs and 12-packs have a distinctive profile.
The success of Ninkasi demonstrates the two key elements guiding Northwestern craft brewers in their approach to branding: vibrant art and naming. Where large national brands push austerity and the image of dignified, storied brands, craft brewers in the Northwest are pioneering a jovial, artistic style. The packaging that connects to audiences embraces the uniqueness and creativity of craft beer.
Building an effective brand from the ground up
Base Camp Brewing opened its doors in 2012, much more recently than Ninkasi. At the time, the Northwest beer industry was well into its current state of double-digit annual growth. While the resources for brewing are better established and more available than ever before, a new brewery faces more competition than ever before. Base Camp knew before they launched that branding would be critical to sales.
"Our owner worked with a designer early on, while piecing together a business plan and securing financing," says Joseph Dallas, Marketing Director and co-founder of Base Camp Brewing Company. The Portland-based brewery realized early on that a package capable of standing out on the shelf was critical.
Base Camp, like Ninkasi, adopted humorous names like Ultra Gnar Gnar IPA and S'More Stout that spoke to creativity and an adventurous spirit. The same spirit infuses the brewery's colorful, attention-grabbing packaging. From the beginning, they treated a distinctive visual style as a major priority. Explains Dallas, "Our core lineup of packaged beer is very visually consistent, with trade dress that always includes a main brand color, topographic map imagery, copy placement and treatment, and our trademark."
It's a visual style that emphasizes angular, mountainous elements. It extends the "base camp" allusion and speaks to the adventurous spirit that plays so well in the Northwest. The look resonated with customers, and Base Camp has established a steady market in bottled and canned beverages.
While visual style and theming is vital for brewers entering the market, maintaining consistent branding has proven to be a challenge across supplemental packaging. At their small scale, Base Camp is conscious of cost, so it leaves branding off secondary packages as a cost control measure. "Our scale of operations can somewhat dictate how we approach certain decisions," Dallas explains. "At our scale of operations, simplicity is king. Navigating the wonderful world of manufacturer minimum-order quantities has played a large part in informing our marketing strategies."
Eye-catching, stylistic branding is key to the success of craft beer. When a company is unable to maintain consistent branding on a style of package, it limits how a brewery's product can be displayed and sold. To tackle this problem, craft brewers are looking to the next major development.

Small brewers lead the migration to cans
Bottles, as opposed to cans, have always dominated the craft brewing industry. Currently, however, the unique needs of the craft market are leading brewers to reconsider the use of cans. Craft brewers, particularly smaller breweries, are finding that cans offer an answer to their difficulties and new avenues for reaching consumers.
A good example is Everybody's Brewing, located in White Salmon, WA. They use cans for the majority of their lines, using 22-oz bottles for only a small range of specialty beers. Owner and Brewmaster Doug Ellenberger sees the use of cans as a better way to connect to the region. "Even though we're pretty much in the Portland area, we're also in an outdoor recreation area," he explains. The Pacific Northwest is one of the most densely forested regions in America. Beer brands reach customers much more effectively if their packaging is suited to outdoor settings. Cans—less breakable, more frequently recycled, and better at blocking light than glass—are more convenient for the Northwestern consumer.
Canning extends flexibility to the producer as well. Similar to Base Camp Brewing, Everybody's Brewing is smaller in scale and has to deal with the challenges of minimum-order quantities. Having recently moved from a mobile canning service to in-house canning, their greatest difficulty comes from storage.
Canning allows brewers multiple options for applying branding. Recently, Everybody's Brewing experimented with shrink sleeves, which let them order and inventory one undecorated can and then differentiate among brands by way of the label that is applied. This flexibility came at a cost, as shrink-sleeved cans are more than twice as expensive per can for Everybody's Brewing compared to their printed alternative. Still, the flexibility to move between options is of great benefit for growing breweries, which need to frequently reevaluate the appropriate logistics for their current size.
The appeal of cans to both consumers and packagers is pushing the growth of canning. According to market research firm IRI, the percentage of packaged craft beers being canned has more than tripled from 5.6% to 17.2% since 2013. Packagers and brewers looking to understand the future needs of the craft industry should see that canning represents a dominant trend.
Crafting the future
As the craft brewing industry continues to mature, its surging growth can itself be a daunting challenge. Comfortable norms of the industry, like the dominance of bottling, no longer seem like sure predictions. While surprises are still sure to come, looking at the most saturated regions helps to put the future in perspective.
The key to grasping craft brewing's future lies in knowing that the "craft" element is as important as the beer. Successful craft brewers at each scale are departing from the austere, historic imagery that defines national brands. They are seeking to embody uniqueness, artistry, and independence. This finds expression in their art, and in their push for packaging methods that accommodate all sizes of brewer.
In Portland, home to 58 breweries, the slogan is, "Keep Portland Weird." For these brewers, it is a reminder that creativity, humor, and independence are what connect to their fans. As the craft boom spreads, brewers would be well advised to adopt the same spirit.
A successful rebranding sets Chicago ablaze
The Northwest might seem like an insulated area, but the principles for their industry aren't unique just to that region. Last year, Packaging World highlighted the rebranding process of Burnt City Brewing, formerly Atlas Brewing, in Chicago. Since their rebranding, Burnt City Brewing has had success and a surge of brand recognition. They attribute their success to the same vivid naming that is making craft beers stand out in Portland.
"Our number one beer right now is the Face Melter IPA," says Chief Operating Officer Greg Lamacki. Since the rebranding, sales have shown that "people buy beer based on fun names." Their current strategy focuses on cans with metallic paper labels, colorful art, and a variety of fiery names to reinforce the brand. Customers have responded, and the brand is stronger than ever.
"It was the brand that carried Burnt City forward," Lamacki explains. "Atlas was limiting. It's a simple name for a simple brewery. Burnt City can name a beer anything."