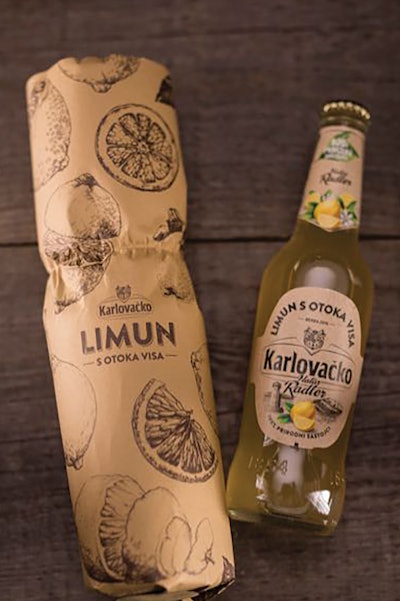 The special offering—Heineken Karlovacko Lemon Natural Radler—was to be the first radler on the market made using local lemons from the Croatian island of Vis.
With the packaging and marketing piece, Heineken wanted to evoke the naturalness and origin of the ingredients, which would be sourced from the furthest inhabited island off the Croatian mainland. "Thanks to its mild climate, Vis is known for its plantations of palms, oranges, and lemons, oleanders and aloes, Indian figs, and other subtropical plants," explains Bruketa&Zinic Art Director Tanja Pruzek Simpovic.
Label graphics for the beer bottle were Inspired by nature and the local culture of Vis. "The label has the look and feel of recycled paper," says Pruzek Simpovic. "All of the elements are in a neutral dark brown color, except the lemons, which are in full color to emphasize them more. For an even more 'crafty' look, we added retro typography and illustrations that tell the story of Vis, such as a fishing boat, a lighthouse, and lemons."
For the B2B package, Bruketa&Zinic designed a kraft paper box packed with a bottle of beer, wrapped in brown paper decorated with images of lemons. Also in the box, the agency added fresh lemons from Vis and a rolled up letter containing a "secret message" that could only be revealed by rubbing the paper with lemon juice. Says Vanja Cinic, Copywriter for Bruketa&Zinic, the letter tells the story of the beer's 100% natural ingredients, in particular the fresh lemons from Vis.
The box was sent to Heineken business partners with the launch of the limited-edition beer and, according to Bruketa&Zinic Account Manager Valentina Bugarin, impressed them so much that it paved the way for the product to enter new retail channels. "The partners were thrilled, especially with the paper revealing the text after being smeared with lemon juice," she said.
Heineken Karlovacko Lemon Natural Radler was sold in Croatia during summer 2016.