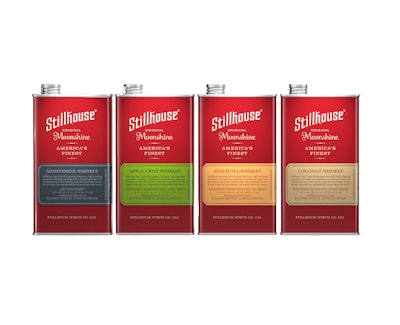 The latest edition to the growing trend toward moonshine-style spirits, Stillhouse 100% clear corn whiskey from Stillhouse Spirits Co. of Louisville "takes whiskey where glass can't go." The product, in one Original and five flavored varieties, is packaged in a first-of-its kind, fire engine-red metal can with vintage-style graphics.
"'Throwback' concepts are of the moment, and moonshine is no different," says Stillhouse founder and CEO Brad Beckerman. "In search for authenticity, consumers are now more than ever connecting with products that appeal to a certain nostalgia. Stillhouse pays homage to the original entrepreneurs and hustlers—the moonshiners—by cutting against the grain to craft a spirit that goes beyond its origins."
As Beckerman explains, Stillhouse whisky is made from a proprietary mash and is distilled in authentic copper whiskey stills. It is then charcoal-filtered, as opposed to aged in wooden barrels like traditional whiskeys, for superior quality and taste.
Seeking a package as disruptive as its product, Stillhouse created its proprietary stainless steel container with the help of Sandstrom Partners. Says the brand design firm, "Our intent was to avoid cliché and pure novelty while remaining true in character and strong in attitude. The solution was inspired by the industrial strength and utility of oblong cans used for turpentine and mineral spirits to suggest a daring challenge, and therefore fun. It's purposefully ironic as the whiskey is quite delicious–distilled and produced to the absolute highest standards."
The can holds 750 mL, measures 6.5 x 3 x 1.5 in., and is finished with a proprietary "Stillhouse red" lacquer. A color-coded label decorates the front and one side panel and tells the story of the company's Moonshine Whiskey. A standard pour spout can be added to the can opening for on-premise use.
In addition to disrupting the whiskey category with its aesthetics, the Stillhouse package also offers functional advantages over glass: It is unbreakable, chills, rapidly, and is lighter than the standard glass bottle. "From a backyard barbeque to a beach bonfire to a tailgate party, Stillhouse travels where glass can't go," says the company.
The line of six whiskeys was introduced in late February 2016 in select retailers in California, Indiana, and Ohio, with additional states to be introduced this summer. The product carries a suggested retail price of $27.99.