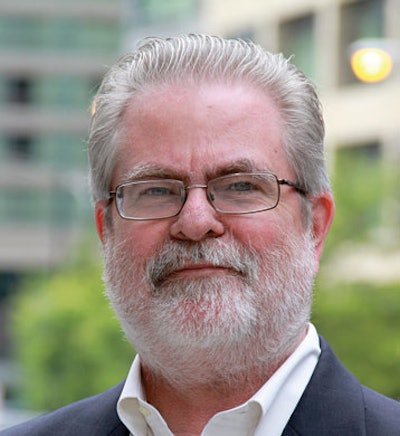 Now, with the launch of Dagschotel brand beer in 33-cL PET bottles, those package printing visionaries can appreciate the fruits of their labor on a store shelf. Actually, with a smart device and the right app, they can hear the fruits of their labor on a store shelf.
Martens Brouwerij, based in Bocholt, Belgium, has introduced its Dagschotel beer in coordination with a well-known group of Belgian TV actors who star in F.C. Kampioenen, a long-running Flemish sitcom chronicling the adventures of a fictional local football team. Martens has injected an extra dose of fun into the launch of its new beer in two ways. First, the PET bottles have the sitcom's characters printed digitally by the KHS system. Second, there's a specially designed smartphone app. With the app, the TV characters come to life when a smart device is aimed at the bottle graphics. And when two bottles are brought together, the app presents a dialog between the characters—voila, bottles that talk to each other in augmented reality on the screen of a phone or tablet.
Since interpack 2014 I've been following the Direct Print Powered by KHS™ technology. It's being brought to the global marketplace by NMP Systems, a subsidiary of KHS, and it produces 1080-dpi optical resolution white+cyan+magenta+yellow+black process-printed images. I'm not surprised that Martens is the first to commercialize it. Consider the brewery's mission statement: "Every day our actions are defined by innovations in new technologies, processes and products."
I know firsthand how innovative Martens is because I visited with them in 2004 for a story about their pioneering move into barrier-coated PET bottles. CEO Jan Martens said to me at the time: "We have placed high hopes in PET and assume that we will be able to continue to present ourselves as a specialist for filling beer in PET bottles."
A specialist indeed. Some 11 years later, the 255-year-old family-owned brewery has five Sidel Actis systems for amorphous carbon treatment of PET bottle interiors as well as a KHS Plasmax system that coats bottle interiors with silicon oxide. Both coatings serve the same purpose, which is to give the PET bottles gas barrier properties that permit Martens to code their 50-cL, 66-cL, and 1-L PET bottles with a nine-month shelf life at ambient temperatures. The brewery is also as advanced as any in the use of PoliProtect™ oxygen scavenging PET resin from Gruppo Mossi & Ghisolfi, though the only bottle whose preforms are made from this material is the brand new 33-cL bottle. With a surface-to-volume ratio smaller than the other three sizes, it needs this extra barrier component.
As for the KHS direct print system, it's soon to be replaced. The machine Martens operates today made its debut at drinktec in 2013. A lot has been learned since 2013, all of which is shaping the development of version 2.0. It should be running at Martens in Q1 of next year.
One thing that won't change is the digital ink supplier: Agfa. Phil Johnson, Managing Director of NMP Systems, says that the single most challenging aspect of direct digital print on PET revolved around solving the challenge of ink migration. "Don't forget that PET is porous, so if the ink migrates through to a beverage, you have a problem," says Johnson. The Belgian Federation for the Chemical Industry and Life Sciences was so impressed with these low-migration inks that it gave Agfa its essenscia Innovation Award 2014.
Brewery president Jan Martens is impressed too, not just with the inks but with direct digital print in general. "The big advantages gained when direct digital print replaces labels are speed to market and the simplification of inventory and logistics," he says. "I think it's the future."
Speaking of beverages, I'd like to raise a toast to Senior Art Director David Bacho for his effort on the Packaging World redesign that makes its debut with this issue. New typefaces, updated logo, fresh and contemporary treatment from beginning to end—it is indeed a job well done.
Companies in this article