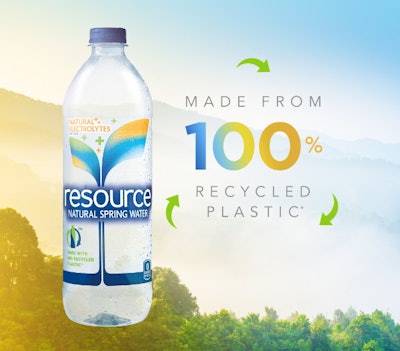 Resource Natural Spring Water, part of the Nestlé Waters North America (NWNA) portfolio of bottled waters, has launched a new bottle made with 100% rPET, excluding the label and cap. According to resource, it is one of the first premium natural spring water brands to offer a 100% rPET bottle nationwide. With its move to a 100% rPET bottle, the company says it hopes to focus attention on the uses of rPET, while reinforcing the importance of bottle-to-bottle recycling and increasing awareness and demand for recycled plastic.
"At resource, we believe that using recycled PET can help increase recycling rates by focusing attention on the value of recycling,"says Debora Fillis Ryba, Senior Manager of Sustainability at NWNA. "Nestlé Waters has a strong history of sustainable innovation and product stewardship advocacy, and the 100 percent rPET bottle aims to continue that legacy by increasing awareness of closed-loop recycling."
According to NWNA, it is consistently exploring new environmentally minded packaging options as well as ways to increase awareness of the benefits of recycling. The company is committed to increasing PET beverage bottle recycling rates to 60% by 2018. NWNA has been working closely with policy stakeholders nationally and locally to help reach this goal.
Companies in this article