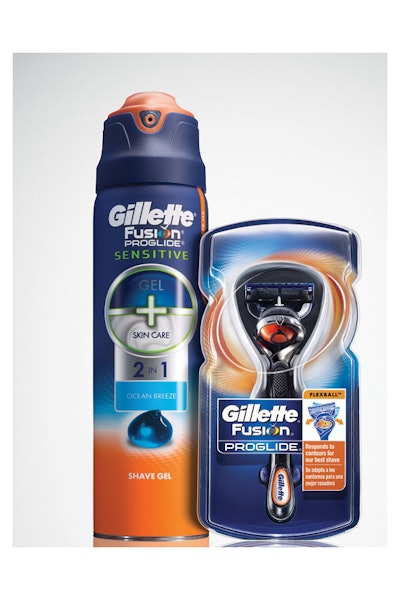 New Gillette Fusion ProGlide Sensitive 2-in-1 Shave Gel Plus Skin Care, launched in February 2015, features a rust-free plastic package, an enhanced dispenser, and a see-through gel gauge that have been designed to reduce waste and prevent mess.
According to Gillette, in a recent survey it conducted of 300 men in the U.S., aged 18 to 40, 35% say shaving messes are a frequent cause of arguments with their significant other—"more than the 28 percent who cite leaving the toilet seat up as a reason!" says Gillette.
"While we were pleased guys enjoyed shaving with our latest razor, the Fusion ProGlide with FlexBall Technology, when reviewing the holistic shaving experience, we found they were still dealing with common frustrations that could set them back," says Brenda Bynarowicz, Marketing Director, Gillette North America. "Knowing a guy's morning routine sets the stage for his entire day, and we looked for ways to better it—and we feel we've done that with our new product."
The 6-oz plastic bottle, supplied by Airopack, is designed with a plastic base to prevent rust rings on the sink or bathroom counter. The bottle is decorated with a clear shrink-sleeve label with bold blue and orange graphics in matte and gloss finishes for a smooth touch and premium appearance. On the side of the bottle, a see-through window in the label acts as a gauge for consumers to see how much product is left in the package. (To see how the Airopack technology works, see pwgo.to/1598.)
The canister is topped with Airopack's air-driven Clean Dispense Actuator, which features a locking mechanism and a nozzle that automatically seals closed to stop excess gel from escaping the canister.
In Gillette's survey, these package features were said to be improvements men would like to see in their shave gel, with 46% citing the desire to avoid shaving messes, 39% wishing to prevent rust rings, and 48% wanting to know how much gel remains in the can.
Gillette Fusion ProGlide Sensitive 2-in-1 Shave Gel Plus Skin Care is available at food, drug, and mass merchandise stores nationwide for a suggested retail price of $4.99.
See videos of the can at pwgo.to/1572.
To see a spin + zoom 360° photo, click here.