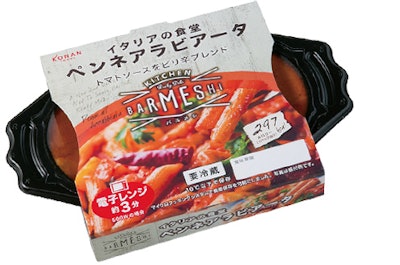 This marks the second commercial application of the Micvac microwave pasteurization technology in Japan. The Micvac production line was installed in February 2015. The products will be launched into the Japanese market during spring. The brand, Barmeshi, provides the Japanese market with a high quality range of complete ready meals.
Konan Foods will start with a range of chilled ready meals consisting of 6 recipes: Gratin, Ratatouille, Penne Arrabiata, Curry Risotto, Cream Stew, and Tomato Risotto. These meals will be distributed through convenience stores and various supermarkets.
"The Japanese market has really accepted the Micvac concept," says Hirokazu Kushioka, Manager of the Micvac team within Dai Nippon Printing Co., Ltd (DNP). "The consumers like the taste and quality of the meals and the producers like the shelf life, which enables a smoother production and efficient logistics."
Konan Foods was established in 1973 and has since then been supplying high-quality foods made with traditional ingredients from their region. Konan is proud of their homemade taste and the Micvac method matches very well with that concept. With local production they want to live up to the traditional food culture from their home region Kochi prefecture.
Micvac and DNP started their cooperation in 2010. The interest from the industry in high-quality chilled ready meals with both convenience and extended shelf life is definitely recognized and the potential in this market is big.
Companies in this article