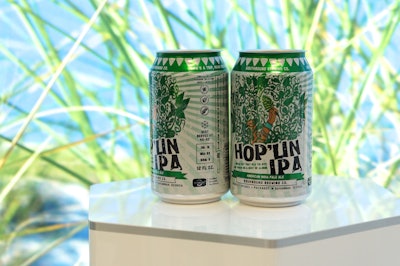 Southbound Brewing Company, Savannah's first production microbrewery, has become the latest craft brewery to offer its beer in aluminum cans made from Novelis' evercan™, the world's first and only certified high-recycled content aluminum can sheet.
"We founded Southbound to bring the innovation and excitement of the American craft beer revolution to Savannah and the Southeast," says Carly Wiggins, Director, Marketing and Sales, Southbound Brewing Company. "When we learned about evercan, the industry's only low-carbon, certified high-recycled content packaging, we knew we had to make the switch—for the sustainability of our brewery and our local community. It was the right thing to do."
Southbound will now can its year-round brews, Hop'lin IPA and Scattered Sun Belgian Wit, in evercan. Both brews will be available in evercan on store shelves in Georgia, South Carolina, and Florida in mid-April 2015.
As part of the brewery's commitment to sustainable innovation, Southbound is one of nearly 50 craft breweries across the country that have signed the Brewery Climate Declaration, a declaration created by sustainability non-profit Ceres, mobilizing leaders in business and industry to show their commitment to creating a more sustainable world. Signatories of the Climate Declaration are taking action to reduce greenhouse gas emissions, use less energy, choose clean energy sources, and invest in new technologies in an effort to help combat climate change. Also a signatory of the Climate Declaration, Novelis has committed to cutting its GHG emissions in half by 2020 through recycling.
Novelis evercan is made by recycling used beverage cans and contains a minimum 90% certified recycled content. Notes Novelis, recycling aluminum requires 95% less energy and produces 95% fewer GHG emissions than manufacturing primary aluminum.
Companies in this article