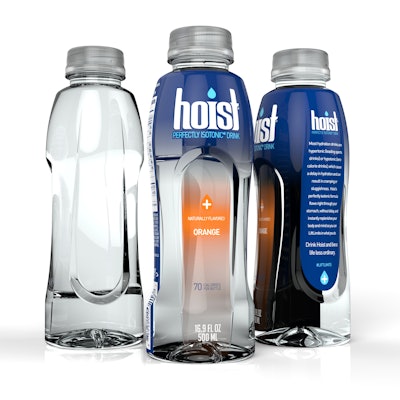 The A' Design Award & Competition, based in Como, Italy, has reconized ScorCreative at Amcor, the structural design studioco-located at Amcor Rigid Plastics, for its redesign of the Hoist rehydration/sports drink bottle from Hoist LLC, Cincinnati.
ScorCreative created a new ambient-filled 16.9-oz PET package that competes with existing 20-oz rehydration sports drink offerings. Hoist is said to be a true isotonic that offers rapid rehydration versus hyper- or hypo-tonics. The brand's original package was a short, stout 12-oz container that picked up steam in the medical market but lacked penetration in the sports drink space.
"We completely redesigned the primary package, recommended moving up to 16.9-ounce, revisited their branding, and even changed the tagline," explains Damien Moyal, Senior Design Lead for ScorCreative, who spearheaded the project. "We're very proud of our redesign, which basically repositioned and elevated the brand so it could effectively compete in the sports drink market."
Since the project targeted active, athletic consumers, ScorCreative explored silhouettes that communicated fitness, and were lean and svelte in form. Gender-neutral designs were developed, conveying movement and energy. Most importantly, ScorCreative incorporated panels that currently serve no performance function since the product is cold-filled. But if the brand gains traction and increases volume, Moyal believes the panels can absorb vacuum if the product ever moves to a hot-fill process.
To make the package cost-effective and quick to implement, ScorCreative ensured that the design was compatible with existing preforms. The new Hoist bottle is designed to run on existing filling lines with minimal changeover.
The injection/stretch blow-molded bottle features a 38-mm finish and partial shrink-wrap label. Hoist premium hydration—available in Starfruit, Strawberry Lemonade, and Orange—will be commercially availableat retail storesin theMidwest and Southwest.
Companies in this article