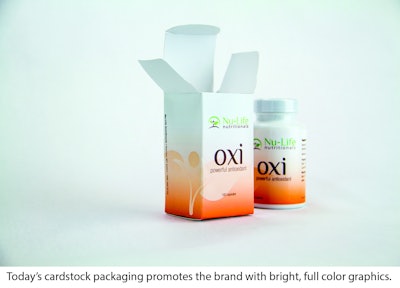 When Nu-Life Nutritionals sought to package its Oxi Powerful Antioxidant product in 100-capsule plastic bottles, the Riverton, WY, company went straight for a cardstock carton to surround the bottle. Supplied by DynaPress, the 20-pt cardstock is offset-printed in four colors.
"Our company, Nu-Life Nutritionals, has always been focused on a whole foods concept, even before it became popular," says Paul Holm, CEO of Nu-Life Nutritionals. "We refuse to use chemicals and synthetics in our products.We have never expected to be the cheapest product either.
"We have, for the last 12 years, maintained our excellent initial design and product quality by religiously holding to the standard, and set pricing wherever it has to land to pay the costs.Presentation and packaging of our formulations has always been a serious deal for us. We are always game for spicing up our image.
"It was a stroke of genius when DynaPress presented us with the new box for our products.It provides an improved image, the added security, and the added perception and anticipation of 'what's inside.' One look was enough to convince our staff of the importance of this packaging. We hadn't been offered such options from other providers, and I have long been convinced that Nu-Life Nutritionals' interests are very much in good hands with DynaPress."
The new 2x2x4-in. box fits in well with Nu-Life Nutritional's future plans. "It's perfect for our highly successful, plant-derived mineral product," says Holm. "Our plan is to make our vita, green and trim products, even our nerve-calming 'fiber' in the quart size, available with similar packaging."
Nu-Life outsources bottle filling, sealing, and labeling, functions, which are conducted manually at this point. "Automation for that step will come as our volumes and sales increase," says Holm.
Holm says Nu-Life Nutritionals has worked with other printers in the past, but notes that they were no match for DynaPress. "I have never seen one that is so driven, and is constantly in transition to meet market demands the way DynaPress is," he says. "We can count on them to protect our bottom line and keep our image up to date. Their end-product quality and their ability to cost-effectively service our account and keep us in the loop through the development process for packaging and printing have endeared us to their way of doing business.Being a exemplary full-service printer, DynaPress is practically our in-house design and production division."