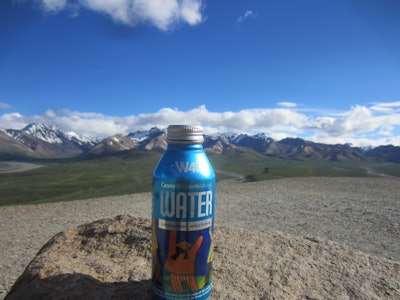 Since 2008 a nonprofit organization called Canned Water 4 Kids has been bringing clean, safe water to children and families worldwide who have none. The group's efforts include the digging of wells and installation of water filtration systems as well as provision of disaster relief and clean water education.
How does CW4K raise the money to do this badly needed work? By selling 12-oz aluminum cans of water in cans that are, for the most part, donated. Filling is done by Cold Springs Brewery of Cold Springs, MN—again, largely as a donation. CW4K then sells the canned water over the internet and makes sure that 95 cents of every dollar that comes in helps build a water purification plant or drill a well in a region where clean water is badly needed.
In a new initiative, CW4K now has a 16-oz aluminum bottle available. "People like bottles," explains Founder Greg Stromberg. "They're resealable yet every bit as recyclable as an aluminum can."
The Alumi-Tek bottle from Ball Container (www.ball.com) began appearing this summer in Denali National Park and Preserve through Doyon/Aramark Joint Venture, the authorized concessioner for the various tours, activities, and other services offered with Denali.
"Each bottle sold provides 27 children with clean drinking water for more than four years in Zambia Central Africa," says Stromberg.
Learn more at www.CannedWater4Kids.org
Companies in this article