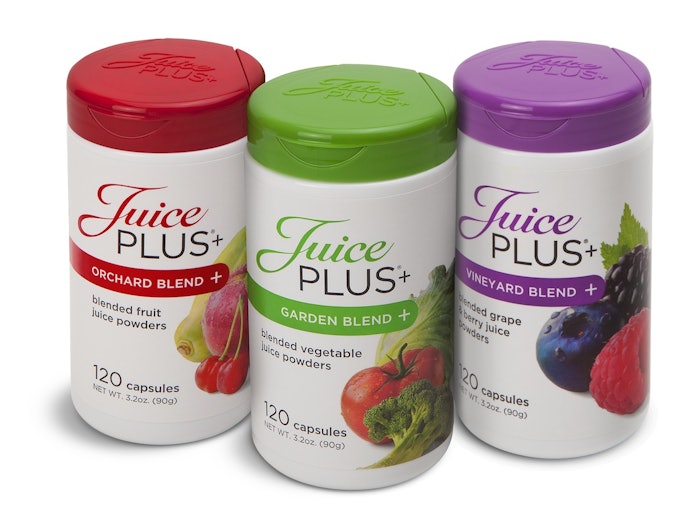 Last year, Collierville, TN-based Juice Plus+ Company celebrated 20 years of inspiring healthy living in families around the world through its natural supplements that provide nutrition from 25 different fruits, vegetables, berries, and grains via convenient capsule form.
As part of the brand's anniversary celebration, the company in late 2013 unveiled a new look and feel for its product packaging designed in collaboration with TricorBraun. The high-density polyethylene bottle was designed for style, size, and engineering specifications. TricorBraun partnered with Priority Plastics for bottle production. The blow-molded cylindrical bottle has a 250-mL capacity and weighs 24 g.
The new package is topped with a NutraGen II dispensing closure from Weatherchem | Mold-Rite Plastics |Stull Technologies. The injection-molded screw-threaded closure allows for a wider opening on the top of the bottle, making it easier to dispense the capsules inside. The cap includes a custom-printed Lift n Peel liner.
Staying true to the brand's commitment to be eco-friendly, the redesigned packaging is designed to reduce the amount of plastic used to make each container. Within the next seven years, the company expects to save more than 1 million lb of resin, and decrease high-density polyethylene (HDPE) by more than 130,000 lb. The 58/400 closure, made of recyclable plastic, weighs 6.8 g. Each bottle contains twice as many capsules, which reduces the number of bottles per carton, further helping to lessen waste.
"Because of our direct sales model, it is important to reinforce our brand to our customers and provide them with an exceptional product that is easy to use. This new package helps us achieve all of these things, and improve our sustainability efforts by using less plastic," says Gary Giles, Vice President of Product and Research for The Juice Plus+ Company.
"Knowing that Juice Plus+ customers range from busy moms hustling to feed on-the-go children to business travelers trying to stay healthy and fit, convenience was an important component of the new package," notes Chuck Silva, TricorBraun's Regional Sales Manager.
"This new package is a great example of how collaboration results in a package that looks great and benefits both the brand owner and the consumer," says Gary Szymanski, Senior District Sales Manager for Mold-Rite Plastics | Stull Technologies | Weatherchem.
Juice Plus+ describes its products as whole food-based nutrition, including juice powder concentrates from 25 different fruits, vegetables, and grains. Its website adds to the description: "Not a multivitamin, medicine, treatment or cure for any disease, Juice Plus+ is all-natural and made from quality ingredients carefully monitored from farm to capsule so you can enjoy improved nutrition and wellness."
Juice Plus+, an international brand, was founded with the goal of providing customers with more nutrition from fruits and vegetables every day, delivering this nutrition in a convenient capsule form. The redesigned packaging was launched with Juice Plus+ Orchard, Garden, and Vineyard Blend capsules.
To see a spin + zoom 360° photo, click here.
Companies in this article