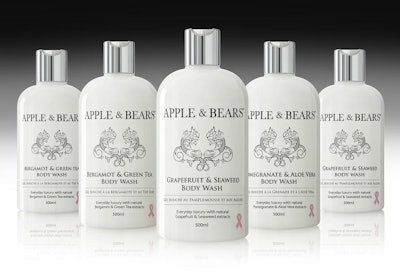 British-based brand Apple & Bears Cosmetics has selected new PET packaging for its Luxury Body Wash ranges in 500- and 300-mL sizes. The new bottles, Flat Based Boston Rounds from Spectra Packaging, are molded in a gloss white PET that Spectra says shows off the two-pass printing perfectly.
Says Alex Beveridge, Field Sales Representative at Spectra, "Apple & Bears products are both luxurious and totally natural. Our task was to provide a pack that complimented their ranges in a stylish yet understated manner. The subtle use of two-color print on a pristine white surface certainly achieves this."
Apple & Bears Cosmetics have a reputation for producing environmentally friendly products that use the finest, sustainably sourced, and eco-certified natural and organic ingredients. The company also maintains an ethical philosophy that embraces responsibility for the manufacturing process—from sourcing ingredients to transportation and distribution.
Additionally, the brand also donates a large percentage of its profits to Breast Cancer Care, as testified by the pink ribbon graphic, which appears on all of the packs in the range. As Spectra explains, a Koi and Mermaid graphic, which also appears on all the products, tells its own story. The logo draws inspiration from the many men and women diagnosed with breast cancer in celebration of life, hope, courage and the promise of new beginnings. The Mermaids represent a graceful, loving, and carefree being, true of heart and free to a life of adventure. The Koi is revered for courage and perseverance.
Says Kay Butt, Managing Director and Co-founder at Apple & Bears Cosmetics, "Our working relationship with Spectra was totally stress-free. From start to finish, their enthusiasm and professionalism was commendable. We are extremely happy with the finished product."
Companies in this article