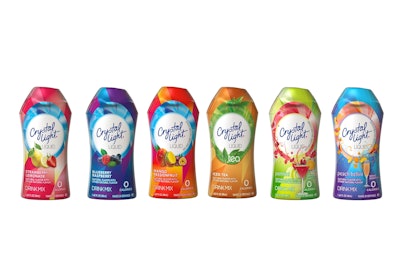 Since creating the liquid water enhancer category with the introduction of MiO in 2011, Kraft Foods has rolled out the concept to other of its previously powdered-only drink mix products, including Kool-Aid and now Crystal Light, in January 2013. "As a pioneer of this category with the launch of MiO, we can tell you that we are dedicated to growing in this exciting new market across a variety of our beverage brands," says Russell Dyer, associate director for Corporate Affairs, Beverages, Kraft.
The Crystal Light purse-sized, portable liquid concentrate container provides the easy-squeeze dispensing of the MiO bottle, but offers a slim-waisted shape, designed to appeal to woman. The tapered column structure, from a proprietary supplier, provides a triangular, asymmetrical top, with a flip-top dispensing cap. The 1.62-oz bottle holds 24 servings, with a suggested serving size of ½ teaspoon per 8-oz glass of water.
The palm-sized, ergonomic package is decorated with a full-body shrink-sleeve label with brightly colored graphics to differentiate the six product flavors—Strawberry Lemonade, Iced Tea, Peach Bellini, Pomtini, Mango Passionfruit, and Blueberry Raspberry. Some varieties include fruit illustrations, while others, such as those from the brand's popular powdered Mocktail line, depict colorful cocktail glasses. The Crystal Light logo is featured prominently in the center of the package, surrounded by an oval graphic of a faceted diamond.
Says Dyer, "The Crystal Light Liquid packaging embodies the brand personality—optimistic, vibrant, and lighthearted—to appeal to women who want to enjoy the delicious flavor of their favorite drinks, without the calories."
On-shelf, the plastic drink mix container slips into a paperboard sleeve that holds the container at the bottom and provides a billboard effect in the back, with complementary fruit graphics and a "New" starburst.
The product, which Dyer says has been received positively by retailers and consumers, has a suggested retail price of $3.99 per bottle.
Companies in this article