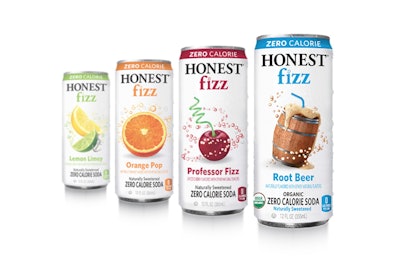 Fun, fruity, and fizzy. Those are the descriptors that come to mind when looking at the delightfully decorated packages for a new line of naturally sweetened sodas from Honest Tea. Launched nationwide in natural food stores in March, HONEST Fizz in four flavors, described by Honest Tea as "so-da-lightful," follows the organic beverage company's formula of refreshing simplicity, with zero sugar, zero calories, and a bit of bubbles.
For graphic design of the new line, Bethesda, MD-based Honest Tea partnered with brand and innovation firm Beardwood&Co. The canvas for the design was a slim, 12-oz aluminum can, held in a 6-pack paperboard carton. Graphics incorporate the recognizable clean, white background and the all-caps HONEST logo that are used for the majority of Honest Tea's offerings, including HONEST Ade, Splash, Tea (in PET), and Kids.
Says Honest Tea vice president of marketing Peter Kaye, "The collaboration between our in-house creative team and Beardwood resulted in a clear and clever design that fits with the rest of our portfolio of brands and really stands out on retail shelves."
The focal point of the can's front panel are whimsical product visuals for each flavor—organic Root Beer, Lemon Limey, Orange Pop, Professor Fizz—that deliver the playful attitude for which the brand is known. Root Beer depicts a straw stuck into a barrel; Lemon Limey uses an anchor for a connection to sailors warding off scurvy; Orange pop has silver bursting bubbles; and Professor Fizz highlights a cherry, with a swizzle straw for a stem to denote the spiced cherry flavor. Says Sarah Williams, partner and creative director for Beardwood&Co., "Each photo offers a sense of animation and gives the impression of the beverage bursting with fizzy flavor."
Conveying the carbonated nature of the drink, bubble graphics play prominently around each of the four main images. "Since this is Honest Tea's first foray into soda, we played up the bubbles on the can and color-coded them to communicate effervescence and flavor," says Beardwood&Co founder Julia Beardwood.
The words "Zero Calorie" are featured across the top of the can in a colored band that further delineates flavor, as well as under the flavor descriptor.
Summarizing the approach for Fizz, Beardwood says: "Our design strategy is consistent with the Honest brand: refreshingly straightforward and simple, along with a serving of fun."
Companies in this article